This Masai Graduate is Taking Flyboard Ventures to New Heights
Chandan has already been part of some exciting projects. One of these involved developing a mobile app for a leading e-commerce company.
"India has all the prerequisites to emerge as a software superhouse."
Rather prophetic words of the late Dewang Mehta(Founder, NASSCOM), aren't they?
Just take the findings of NASSCOM's flagship report, 'The Strategic Review: The Technology Sector in India 2022' which states that the industry recorded its highest-ever growth of 15.5% in FY 2021-2022 to hit $227 billion in revenue. The industry also crossed 50 lakhs in the direct total workforce with the highest ever net addition of 4.45 lakh[1].
But there's a troubling aspect to this workforce that threatens to undermine this very growth - The Great Indian Tech Skill Gap. In other words, there's a critical lack of the necessary skills in the current tech talent pool, particularly freshers. No wonder that 75% of Indian IT companies report a skill gap in the industry[2].
The situation is further worsened for new-age tech startups with giant IT firms being the preferred destination for most tech candidates. In fact, candidates rejected one in four offers made by tech startups in FY 2021-2022[3].
So how can businesses grow and scale in the face of such a massive talent crunch? For Flyboard Ventures, the solution lay in Masai.
Flyboard Ventures is a Punjab-based software and web application development company with a special focus on web application development. With clients spread over 15+ countries, a growing firm like Flyboard just can't afford to compromise on the skills of their hires, including early talent.
"I am convinced that nothing we do is more important than hiring and developing people. At the end of the day, you bet on people, not on strategies."
Lawrence Bossidy, former Chairman & CEO, Honeywell (1995)[4]
They found the perfect fit for their fledgling team in Masai graduate Chandan Kumar Singh.
A Mechanical Engineer by education, and hailing from a very humble background, Chandan harboured a dream since childhood to become qualified, achieve job security, and support his family.
Unfortunately, he was failed by India's current college education system. Despite 4 years of hard work in pursuit of his Engineering degree, Chandan couldn't find meaningful employment upon graduation.
Despite this setback, Chandan was determined to not give up. He soon recognised the tech industry's booming growth as a potential stepping stone to change his and his family's life. The challenge? He needed a way to skill himself in compliance with industry standards.
But without a penny to his name, all doors to enter the industry seemed shut for Chandan, until he came across Masai School and its flagship Masai 0ne program.
Featuring a robust curriculum and pedagogy that's up-to-date with industry standards and taught across a wide variety of tech stacks by industry veterans, the program has become renowned for producing graduates who are skilled, diligent, and have a strong work ethic and a ravenous hunger to learn.
Masai ensures every graduate emerges from the program with over 1200 hours of hands-on coding experience, and over 100 hours of soft skills training, among other things. With an enhanced emphasis on practical experience and soft skills training, Masai has become the industry's go-to destination for bridging the skill gap in early talent.
But what's unique to this program is its outcome-driven Pay After Placement model. This enables India's previously untapped talent pool to become part of today's workforce and attain financial security.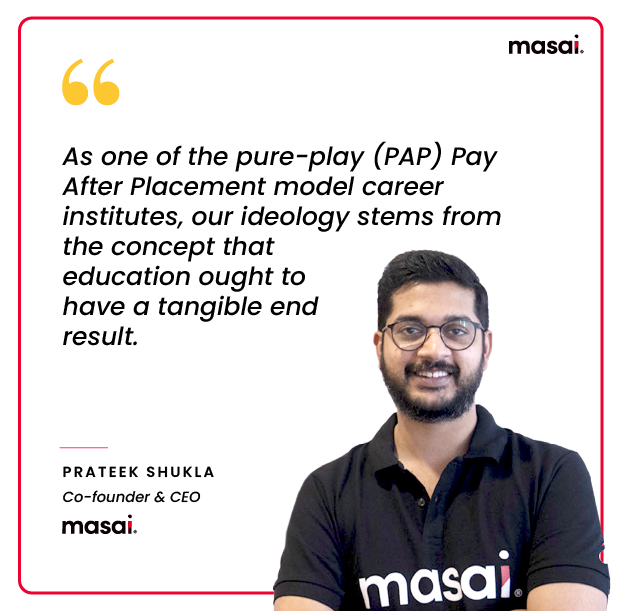 Drawn to Masai's model and success rate, Chandan enrolled himself in Masai 0ne to turn his dreams into reality.
35 very intense and rigorous weeks later Chandan emerged as a developer extraordinaire and was snatched by Flyboard as a Java Developer.
Over the moon about his newfound career, Chandan has already been part of some exciting projects. One of these involved developing a mobile app for a leading e-commerce company. The app allowed for a convenient browsing experience complete with a secure payment gateway. His attention to detail and punctuality became the driving factors of its success.
"Working on an app that meets the needs of millions of users is a challenge, but it's also incredibly rewarding," Chandan says, in a post-placement interview with Masai. "I'm proud of the work I did on this project and the impact it had on the company's bottom line."
Another project saw Chandan working on a web application for a healthcare startup that allowed doctors to manage patient records and communicate with each other in real-time.
Chandan's deep knowledge of React and Node.js helped him deliver a responsive and scalable application, and he is grateful for the privilege of working on something that is improving people's lives.
Chandan is equally fond of his work in developing e-learning platforms. Reflecting on the time he worked on a project in the education sector, Chandan notes that he helped create e-learning platforms that leverage cutting-edge technologies such as machine learning and natural language processing.
One such project was an AI-powered chatbot that could answer students' questions about course content in real-time.

It's this approach of entwining services with core values that makes Chandan the perfect fit for Flyboard Ventures, as their own ethos reflects this belief.
If you too want to hire the right talent for the job like Masai's 2000+ hiring partners, click here.
Click here to connect with Chandan
Click here to learn more about Flyboard Ventures
—-----------------------------------
[1]https://nasscom.in/knowledge-center/publications/technology-sector-india-2022-strategic-review
[2]https://wheebox.com/assets/pdf/ISR_Report_2022.pdf
[3]https://economictimes.indiatimes.com/tech/startups/its-an-all-out-talent-war-at-new-age-tech-startups/articleshow/89679317.cms?from=mdr
[4]https://hbr.org/1995/03/the-ceo-as-coach-an-interview-with-alliedsignals-lawrence-a-bossidy
---
More stories for you:
This Masai Graduate is Helping CallHub Dial into Success
This Masai Graduate is Helping MPL Change the Rules of the Game
MyGate Is Opening New Gates to Success With This Masai Graduate
This Masai Graduate Is Steering DriveU on New Roads
Paradigm Shift from degree-based hiring to skills-based recruitment