This Masai Graduate is Helping MPL Change the Rules of the Game
To revolutionise gaming in India and reach greater heights, MPL trusted Masai School to help scale up its operations.
"Where there is the necessary technical skill to move mountains, there is no need for the faith that moves mountains"
These words of American philosopher Eric Hoffer from 1955 continue to ring true even now in the 2020s. Indian startups are looking to hire more technically skilled talent to move mountains and disrupt their respective industries. This is reflected in a recent report by Amazon Web Services which states that India will need up to 9 times more skilled workers by 2025 to keep pace with the demand for tech talent[1].
With mobile gaming outpacing the growth of social media in India, online gaming unicorn Mobile Premier League (MPL) is a true pioneer in the space[2]. It has seen its growth skyrocket since its inception in 2018 with over 90 million registered users on the platform currently[3]. To achieve, sustain and accelerate this growth, MPL must rely completely on skilled talent among its ranks. Sai Srinivas Kiran G, Co-founder and CEO of MPL, confirmed as much in an interview[4].
"Our entire philosophy is very clear," he said. "At MPL we always value specialists more than generalists- our entire rewarding mechanism in the company works on having people with a very clear role."
Who is a specialist according to Sai? He further clarifies in another interview[5]:
"... what we mean by specialists is that, hire a person who knows what they're doing rather than them coming and learning on the job because, as a startup, you have very little money. You have to spend that money on the right things; you can't get people who don't know what they're doing. And even if it means you have to pay a little more, that's absolutely okay…. "
To revolutionise gaming in India and reach greater heights, MPL trusted Masai School to help scale up its operations.
Aravindan S graduated with a Civil Engineering degree in 2017 and subsequently spent over two and a half years working in the domain. But his heart lay in the tech world.
Attracted by Masai's impressive track record of skilling its students and its revolutionary Pay After Placement (PAP) model, Aravindan enrolled in its flagship Masai 0ne program to help him transition careers.
What followed was 37 weeks of practical industry-based experience with a dynamic curriculum in line with industry standards. Aravindan's education at Masai focused on a great diversity of tech stacks and practical experience instead of purely theoretical learning.
Impressed by their depth of knowledge and skills, MPL brought Aravindan and 11 other Masai graduates on board to fill their SDE-1 vacancies.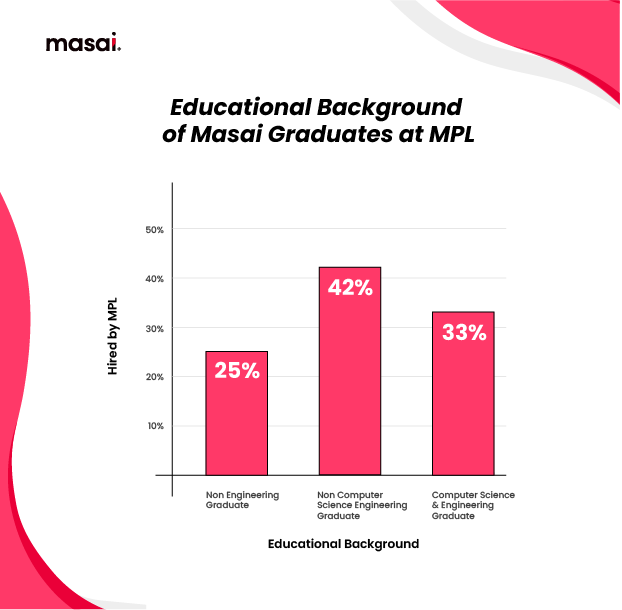 During his year and a half at MPL, Aravindan has lent his talent to a number of interesting projects:
"There's this really cool and interesting project I worked on," he said. "So we basically wanted to give users an experience on the web. They won't even have to download the MPL app, as long as they simply access the web page and login, they can start playing the game from there itself.
"The reason this project in particular stands out to me is because it was a combination of Unity and React that made it possible. Combining them may be an easy task but that would make for a slow experience. Our focus was on speed.
"So I stepped in to make the game more playable and with improved performance. That was my favourite part!"
Aravindan's emphasis on speed rings true to the core of MPL. Sai has often elaborated on the company's focus on speed in its operations,[6] "We believe in speed. We've always believed that the speed at which you move can sometimes really surprise the market and your competition."
Additionally, Aravindan has contributed to numerous other dashboards and web pages. His meticulous approach and drive to constantly push boundaries have distinguished him as just the kind of 'specialist' that MPL requires.
As companies are gearing up for the long hiring struggle ahead, candidates must step up to be job ready and adaptable to the growing needs of the industry. Aravindan has some wise words of wisdom for these candidates.
And that, in a nutshell, is Masai's mission: Producing industry-ready graduates who are at the forefront of technology.
So, if you're looking to recruit talent that delivers from Day 1, click here to find the perfect candidate.
Click here to learn more about MPL.
Click here to connect with Aravindan S on LinkedIn.
—---------------------------------------------------------------------
[1]https://economictimes.indiatimes.com/news/company/corporate-trends/eight-out-of-10-indian-businesses-reskilling-it-workers-in-response-to-growing-tech-skills-gap-survey/articleshow/95418150.cms
[2]https://economictimes.indiatimes.com/tech/tech-bytes/in-india-gaming-is-growing-faster-than-social-media-report-says/articleshow/87891323.cms
[3]https://www.forbesindia.com/article/sports-tech-special/mpl-forging-a-league-of-its-own/77127/1
[4]https://www.youtube.com/watch?v=jLjW5mXoSU0&t=1637s
[5]https://youtu.be/BnS7udedMbo?t=2291
[6]https://youtu.be/jLjW5mXoSU0?t=1639