This Masai Graduate Is Steering DriveU on New Roads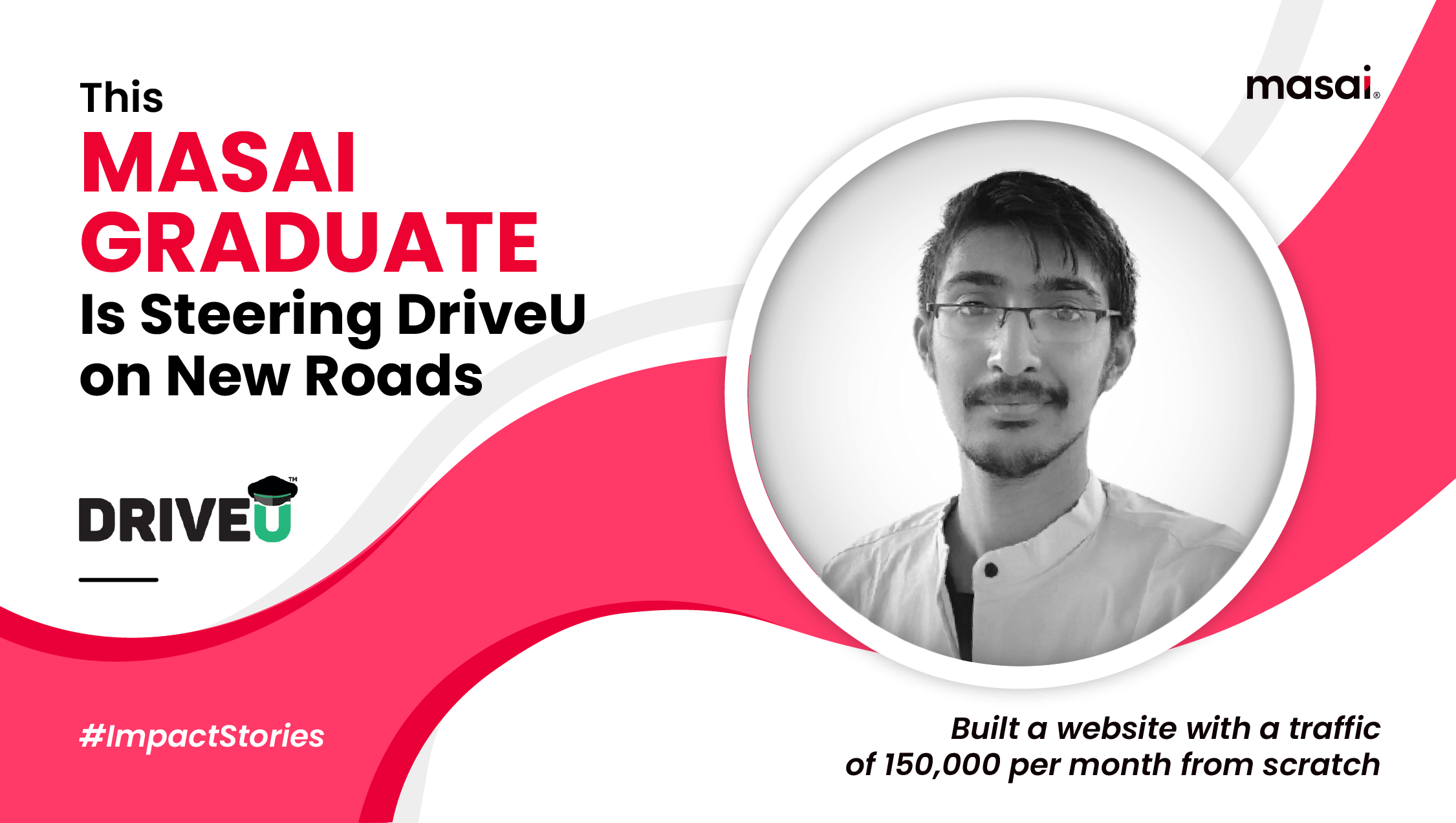 This one phrase encapsulates a deep rooted and troubling dearth of skills in Indian tech talent. The numbers scream a despairing story.
Only about 35% of Indian STEM graduates are employable in the tech sector[1]. For Indian engineering graduates, these numbers are far more shocking. The country churns out over 15 lakh engineering graduates every year[2], yet only 20% of them are deemed employable[3].
This is a tremendous challenge for an industry that's also experiencing record-breaking attrition levels. This is particularly alarming for companies working on or trying to stay competitive globally. DriveU decided to trust Masai to take this beast head-on.
Founded in 2011 by Rahm Shastry, Ashok Shastry & Amulmeet Singh Chadha, DriveU is an on-demand private driver aggregator app. Most car owners can't afford to keep a permanent chauffeur on their payroll, DriveU allows you to hire a chauffeur on-demand to drive you to places in your own car 24x7. It continues to grow rapidly and appreciates the value skilled individuals add to this growth.
Hemendra Bhavarlal Maheta always had a fascination with technology and how it holds the power to transform the world. So, on graduating with a degree in Electrical Engineering he sought to turn his passions into a career and enrolled in Masai's flagship Masai 0ne full-stack web development program.
Fast forward 35 weeks and Hemendra emerged a confident, skilled, and knowledgeable web developer ready to take on any challenge thrown at him by the organisation that would hire him. Impressed by his skills and hunger for learning, it was DriveU that chose to give him and his fellow graduate Deepak Kumar Karn this opportunity.
Team Masai also facilitated the entire recruitment process from the day DriveU shared their job description with the team, till the day Hemendra first stepped into his new role. For the first time in their lives, DriveU's recruitment team had received The Masai Experience - a seamless recruitment experience characterised by an average total duration of 3 days and a 90% acceptance rate.
On 1st April, 2022, Hemendra joined DriveU as a Junior Frontend Developer.
Now, eight months into his new career, Hemendra is loving every minute of it. He has been involved in a number of projects aimed at growing DriveU in accordance with its motto. - Simplifying Car Ownership.
These include building a website which currently drives a traffic of 150,000 per month from scratch; one of Hemendra's proud achievements. You can clearly see him gushing as he talks about it.
"I built it using tools like React and Redux. You simply go to the webpage and access a database of available drivers suited to your needs. All you need to do is enter your location and the website will do the rest of the work for you. It's very helpful in case a user's in need of a driver's assistance."
Another project that Hemendra built was a doorstep car-washing solution. It allows customers to avail professional car-wash services by simply entering their requirements like the date and time of washing and location of their vehicle. It massively reduces the effort that car owners put into keeping their cars spick and span.

Hemendra credits his technical proficiency and critical nature for his performance at work. He feels grateful to have received Masai's thorough training in a curriculum that precisely matches the industry's technological needs.
But during his time in the industry, Hemendra has realised an important reality about the tech world, companies work on team effort and not just individual effort.
He expresses gratitude again for Masai, this time for the 100+ hours of soft-skills training he received when enrolled in Masai 0ne.
"It equips you to confidently crack the interview and also communicate more effectively with your colleagues and even your manager."
Hemendra is also grateful to be surrounded by a supportive team. When the going gets tough and coding challenges arise, these tech wizards rally together to find solutions. He feels lucky to be a part of such a driven and collaborative group of individuals that's always pushing him to reach new heights and achieve greatness.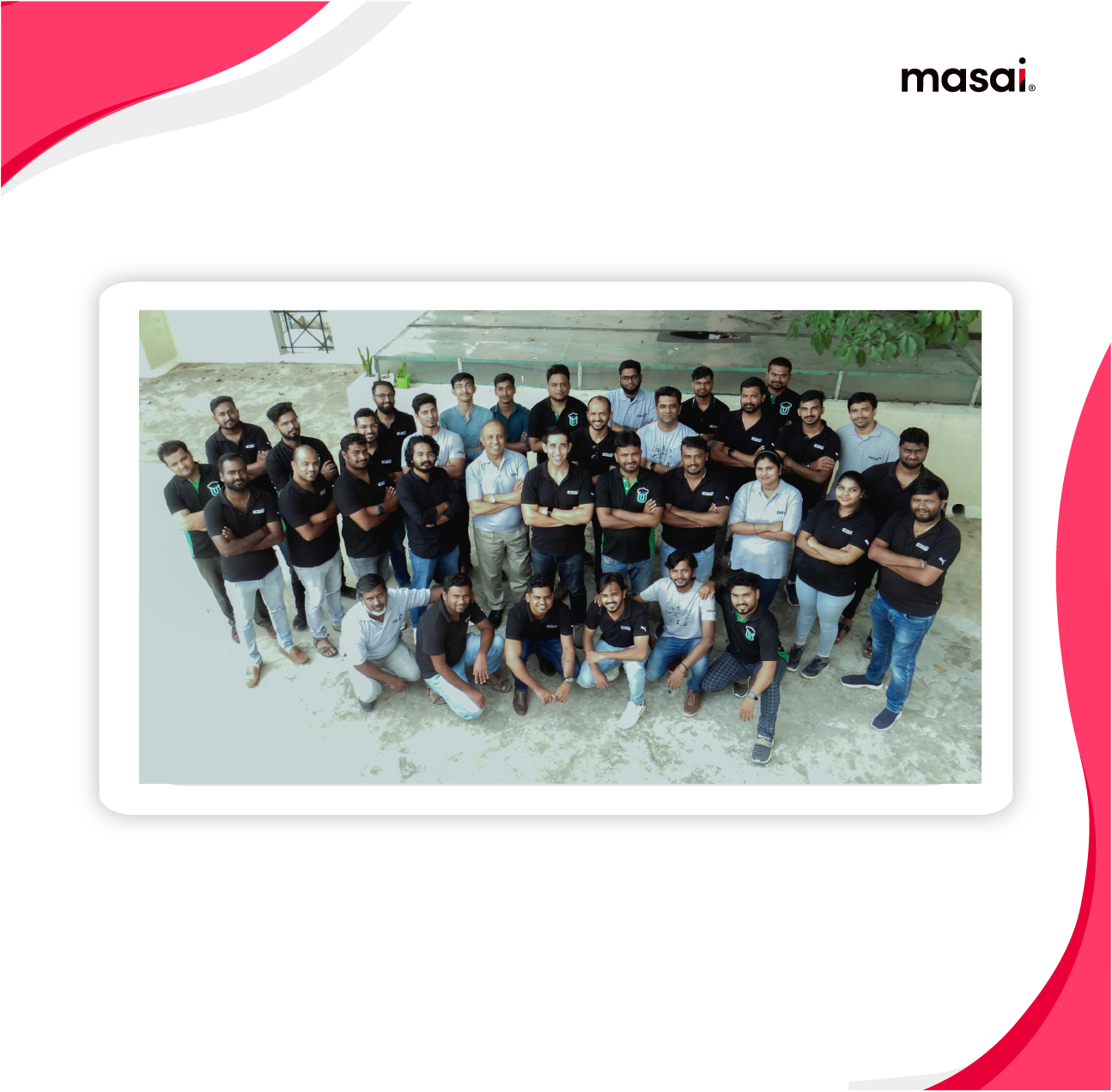 Working at DriveU has helped Hemendra test his limits and learn something new every day. His training and skills have enabled him to face challenges head-on, and add new experiences and skills to his ever growing arsenal. This is what makes him and other Masai alumni valuable assets for DriveU.

The same was further validated when Masai's Co-founder & CEO Prateek Shukla received the following text from Ashok Shastry, Co-founder & CEO, DriveU -
Now that's what we call a win-win.
Are you also looking to take your tech or data analytics games to new heights with skilled fresher talent? Hire a Masai graduate today.
Click here to learn more about DriveU.
Click here to connect with Hemendra Maheta.
Click here to connect with Deepak Kumar Karn.
References:
[1] "Jobs ahead! IT firms step up hiring, but face talent gap hurdle." 28 Feb. 2022, https://www.fortuneindia.com/enterprise/jobs-ahead-it-firms-step-up-hiring-but-face-talent-gap-hurdle/107262
[2] "Modi govt's HEC can't just be UGC with new label. Engineering still ...." 3 Feb. 2021, https://theprint.in/opinion/modi-govts-hec-cant-just-be-ugc-with-new-label-engineering-still-needs-its-own-regulator/597847/
[3] "Over 80% Indian engineers unemployable, lack new-age ...." 20 Mar. 2019, https://indianexpress.com/article/jobs/over-80-indian-engineers-unemployable-lack-new-age-technological-skills-report-5636473/