This Masai Graduate is Mining Success in the Crypto World at CoinSwitch
"Chiranjeev is able to pick the most important tasks, collaborate with stakeholders, and get them done in nearly impossible-looking timelines that we entrust upon him."
Web 3.0 has become a popular buzzword. Blockchain is carving out a formidable presence in the Indian market. More specifically, the cryptocurrency market is predicted to grow to USD 222.70 million in 2023. The user penetration is also expected to grow from 14.5% to 22.4% between FY 2023-27.[1]
This expansion is likely to be fueled by the increased acceptance of cryptocurrencies by organisations and individuals, as well as the continuous development of DeFi and other blockchain-based platforms.
Amidst this financial revolution, CoinSwitch, founded by the trio of Ashish Singhal, Govind Soni, and Vimal Sagar has emerged as a major player with over 19 million registered users to date.[2]
To quote Singhal, "We want to remove all the complexities in crypto trading, educate the consumers and give them a simplified experience of one-click buy and sell in crypto".
As they aim to make crypto trading more accessible in India, the need for talented tech professionals becomes imperative to fuel innovation and sustain growth.
In the face of India's tech talent gap, CoinSwitch found a reliable solution in Masai School and brought on board several of its graduates. One of these talented individuals is Chiranjeev.
Chiranjeev at Masai
Hailing from Ghaziabad, Uttar Pradesh, Chiranjeev's path to becoming a software developer was unconventional. After his 12th grade, he took a year off and during that period he developed a keen interest in tech. Although he started learning programming languages on his own, he needed a systematic approach to building a robust tech career.
Upon learning about Masai from his brother, who was pursuing the same program at that time, Chiranjeev was drawn to the institute's skill-focussed approach and the promise of pay-after-placement.
Despite being from a  non-technical background, the intensive training from scratch and consistent support from the instructors equipped him with the necessary skills and prepared him for a rewarding career in the tech industry.
Chiranjeev at CoinSwitch
Chiranjeev didn't take much time in adapting to the work culture and the change in the tech stack at CoinSwitch.
In his words, "I didn't find the switch difficult as Masai strengthened my core fundamentals and also equipped me with people skills and adaptability. I got a good idea of performance metrics, testing, processes, and feedback cycles that helped me get familiar before starting out"
Chiranjeev started with a project involving Gatsby, a React-based open-source framework for documentation. Recognizing his skills and potential, the team assigned him to a new project - CoinSwitch Pro, an advanced crypto trading platform that offers its customers advanced analysis tools, real-time prices, multiple exchanges, arbitrage, and liquidity.
Chiranjeev, working with the other Masai graduates at CoinSwitch, had the freedom to choose frameworks and build the platform from scratch, marking it a 0 to 1 journey for the team.
Over the last two years, he has significantly contributed to CoinSwitch Pro's development and scaling. The team built the minimum viable product(MVP) to validate the product idea in just a week, then scaled it to a small set of users, and eventually made the product available to the public.  
Despite the crypto market being in its infancy in India, Chiranjeev and his team managed to capture 9% of the market with the first-of-its-kind advanced arbitrage platform- CoinSwitch Pro, an impressive feat that has received accolades from the team and management including a 'Rising Star' award to him and the 'Best Team' award for the CoinSwicth Pro team.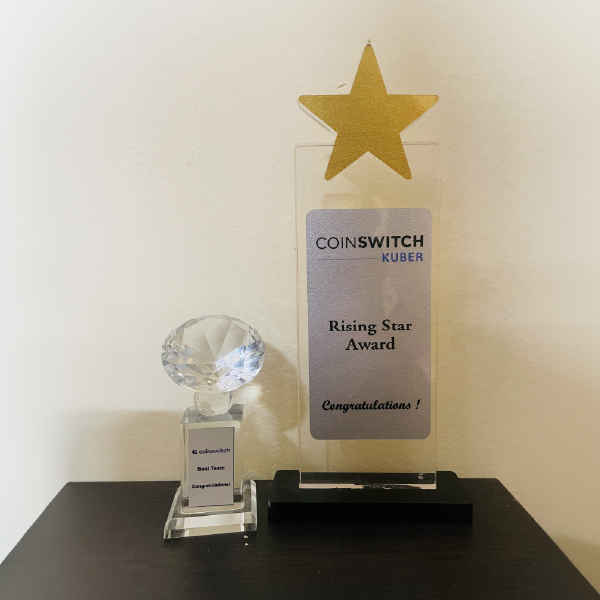 Talking about Chiranjeev's work ethic, Ashish(Senior Product Manager, CoinSwitch) says, "He has very high levels of ownership and has good communication skills. He has proved to be one of the most dependable and passionate engineers at CoinSwitch."
Final Thoughts
Chiranjeev's story underlines the value of skill-based hiring and its role in scaling an organisation. His journey is a testament to Masai's emphasis on practical knowledge, communication skills, and teamwork, along with technical prowess.
India's tech talent gap presents an opportunity for businesses to invest in skill-based hiring over degree-based hiring. Masai, with its commitment to skill-focused education, is perfectly positioned to bridge this gap.
If you're aiming to fuel your organisation's growth with skilled developers ready to contribute from day one, consider hiring a Masai graduate today.
Click here to know more about CoinSwitch
Click here to connect with Chiranjeev
---
Sources:
[1]- https://www.statista.com/outlook/dmo/fintech/digital-assets/cryptocurrencies/india
[2]- https://www.coindesk.com/policy/2023/05/29/indian-crypto-exchanges-are-in-survival-mode-trying-to-extend-their-runways/
HR Experts Speak:
What is The Future of Talent Acquisition?
Skills, Degrees, Certificates: What Works?
Alternative Credentialing & Microlearning: The Catalysts of the Hiring World