Alternative Credentialing & Microlearning: The Catalysts of the Hiring World
A panel of 11 HR leaders sat down to discuss the future of recruitment as new players – alternative credentialing & microlearning – enter the picture.
The tech hiring landscape is in flux. Downward economic trends have resulted in nearly 40,000 layoffs in 2023 alone as of 19th May(1). However, India is predicted to need up to 9 times more skilled workers by 2025 to keep pace with the demand for tech talent(2). All this while organisations deal with a growing and dynamic tech talent pool that offers no guarantee of skilled fits for companies.
On the one hand, only 20% of India's fresh Engineering graduates are deemed employable(3). On the other, they must cope with a massive 20% attrition rate(4). All this is making recruiters' work more complicated than ever. At this time, two trends are slowly taking the hiring industry by storm – Alternative Credentialing and Microlearning. But what exactly are they?
A college degree is a credential that reflects a candidate's knowledge and skills to prospective employers, or at least it's supposed to. But with more and more experts panning Indian college degrees as worthless(5), "Alternative credentials" are being increasingly given more importance for filtering relevant tech candidates. These credentials are educational qualifications that aren't traditional degrees but are a better representation of an individual's skills and knowledge. This can include any diploma or certificate pursued online that highlights specific skills useful in jobs.
If alternative credentialing is the vehicle to professional success, microlearning is the fuel that this vehicle runs on. It is a new way of learning where difficult topics are divided into small, easy-to-understand modules. It is also distinguished from traditional learning models by its pedagogy which uses engaging structuring to draw in the learners and give them an even better and more in-depth understanding of the subject, than a traditional degree program.
So then the question that arises is what exactly is the future of tech recruitment with alternative credentials and microlearning entering the picture?
It is to answer this precise question that tHRive, powered by Masai and ETHRWorld, brought 11 of India's top enterprise human resources and talent acquisition leaders for a roundtable discussion:
Santosh T K, Director Talent Acquisition, Dell Technologies
Sandeep Acharya, Senior Director Talent Acquisition, Publicis Sapient
Sreesukhi Sudarshan, Director Talent Acquisition, EY Global Delivery Services
Manohar Diyali, Director Human Resources, Infinity Learn
Deepak B V, Talent Acquisition Lead : India & Indonesia, Merck
Santosh Bayaluseeme Raghunath, Director Human Resources, NTT DATA Services
Neha Chakrabarty, Head of Recruitment, Tesco Business Solutions & Global Tech
Sandeep Ghatke, Director Talent Acquisition, Freshworks
Meena Bopaiah, Director People & Culture, and L&D, Amadeus Labs
Lopamudra Priyadarshini, Associate Director Human Resources, Acuity Knowledge Partners
Anitha Scaria George, Vice President India COE and Country Leader, Celonis
Ankur Kayesth, Senior Vice President, Masai
The discussion, led by Ankur, started on the note that given the skewed supply and demand ratio of skilled tech talent, how recruiters can hire smartly and effectively.
Skills Over Degree
The speakers took turns sharing about their innovative processes and practices that reveal the best talent and train them in a way that makes them a better fit for the organisation without relying on external training and education.
Anitha spoke about her company's ingenious method of making their training modules accessible to the larger student community no matter what their educational background, before they even consider recruitment, thus getting industry-ready graduates from the start.
Sreesukhi, Neha, and Meena too revealed how their respective organisations conduct their own in-house training programmes for recruits to ensure that they don't rely solely on their traditional education.
Playing the devil's advocate, Ankur posed a critical question, "Wouldn't it be ideal if the skilling and training happened outside as effectively so that companies could get actual industry-ready candidates?"
This question was certainly one that everyone concurred needed further exploration and soon. The one thing that all the leaders present agreed on was that microlearning is the catalyst for a different future.
Microlearning – An Equaliser
Since recruiters are now looking past degrees to hire for skill, it's important to focus on the kind of microlearning that is empowering the candidates' skill development no matter their educational backgrounds. Given the rise of non-engineering graduates taking up tech jobs and engineering graduates showing interest in jobs that don't require core engineering skills, it is an immediate need for the talent acquisition community to figure out a stop-gap. Microlearning is emerging as that stop-gap that acts as an equaliser of opportunities.
Deepak emphasised the need to also include vernacular languages in the model to make it accessible to a larger Indian talent pool which largely consists of individuals from regions that are Tier 2, Tier 3, and beyond aka "Bharat".
However, Santosh Bayaluseeme raised an important point on the efficacy of microlearning. He was of the opinion that while skilling is easier and more focused through micro-courses, its application in real life is yet to be ascertained.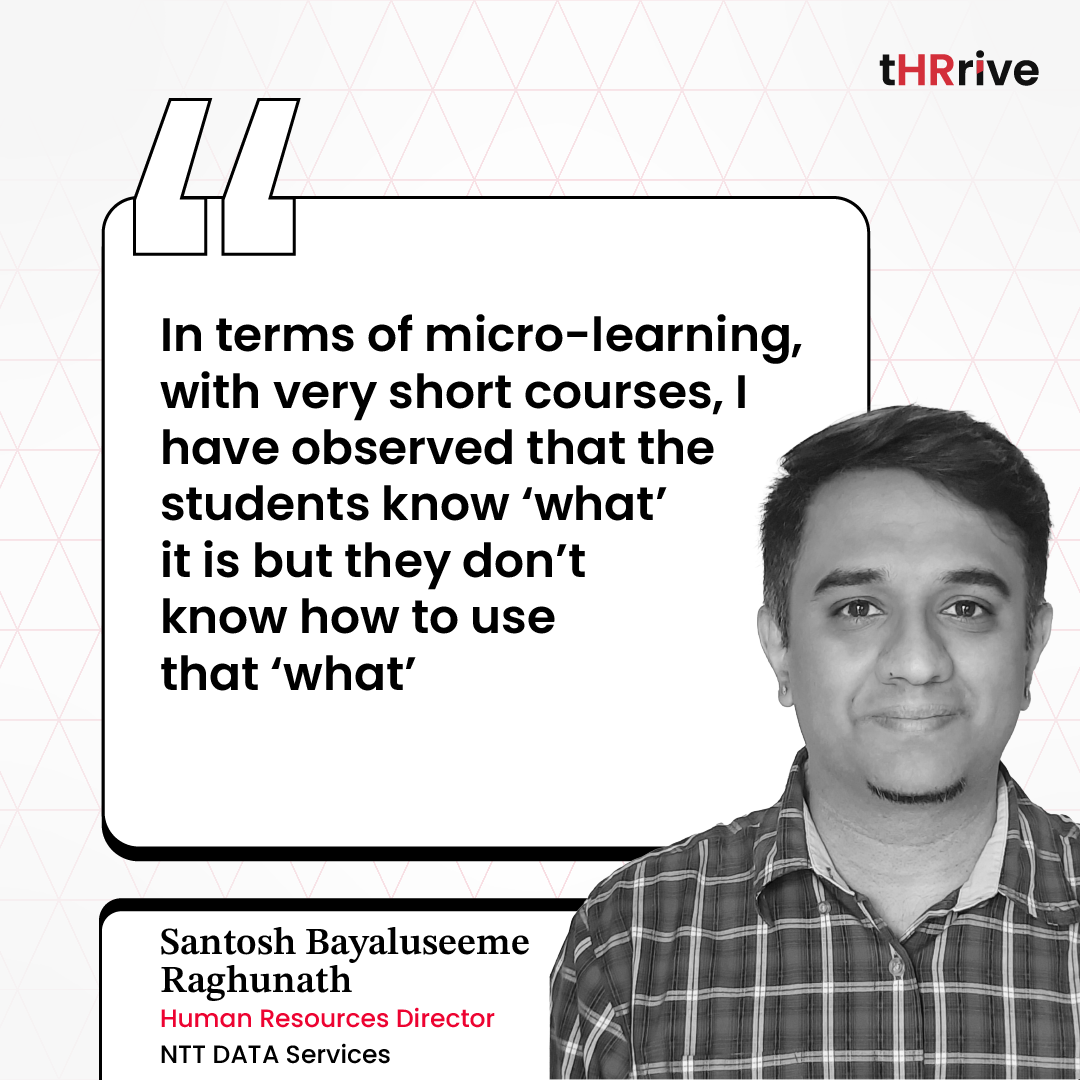 He further added that while microlearning is very beneficial in creating awareness among candidates on how to use their acquired skills daily, they're in need of more in-depth corporate exposure. Ankur, too, talked about the danger of only relying on microlearning, as core concepts cannot be learnt within a short span of time, which is why alternative credentialing is necessary to back up microlearning.
Start the Conversation
Ankur drew the attention of his fellow speakers to the fact that we're still quite far from India Inc. completely embracing alternative credentialing. He spoke about companies looking for candidates with engineering degrees despite the emergence of microlearning and alternative credentialing.
"We have had companies come to us for recruitment, learn of our courses but still ask for candidates with engineering degrees because it's the safer choice," he said.
So while the tech industry is still talking about these new catalysts and technological advantages, it's also time for action. It's time to start the conversation on implementing the ideas for change that are constantly being raised and discussed to revamp tech recruitment so it may overcome its current challenges.
Adopting a new-age company outlook, that essentially prioritises talent, ability, skill, and loyalty over degrees and years of experience, is an effective lens to apply. Recruiting based on skill and ability reaps better rewards, the HR leaders agreed as their own changing processes have proven.
For this to work, however, companies and hiring managers need to be more open to experimentation and talent from unusual sources.
---
Sources:
(2) https://economictimes.indiatimes.com/news/company/corporate-trends/eight-out-of-10-indian-businesses-reskilling-it-workers-in-response-to-growing-tech-skills-gap-survey/articleshow/95418150.cms
(3) https://indianexpress.com/article/jobs/over-80-indian-engineers-unemployable-lack-new-age-technological-skills-report-5636473/
(4) https://www.livemint.com/news/india/attrition-rate-in-india-surged-to-20-3-in-2022-from-6-in-2020-check-driving-factors-here-11664185869237.html
(5) https://economictimes.indiatimes.com/jobs/fresher/worthless-degrees-are-creating-an-unemployable-generation-in-india/articleshow/99570996.cms