Rising Above Odds: Puneet's Journey of Following His Passion at Masai
After graduating in the field of electronics and communication in 2021, Puneet initially found himself on a different career path, working on a job he secured through college placements. However, a burning desire to become a software engineer led him to make a bold decision.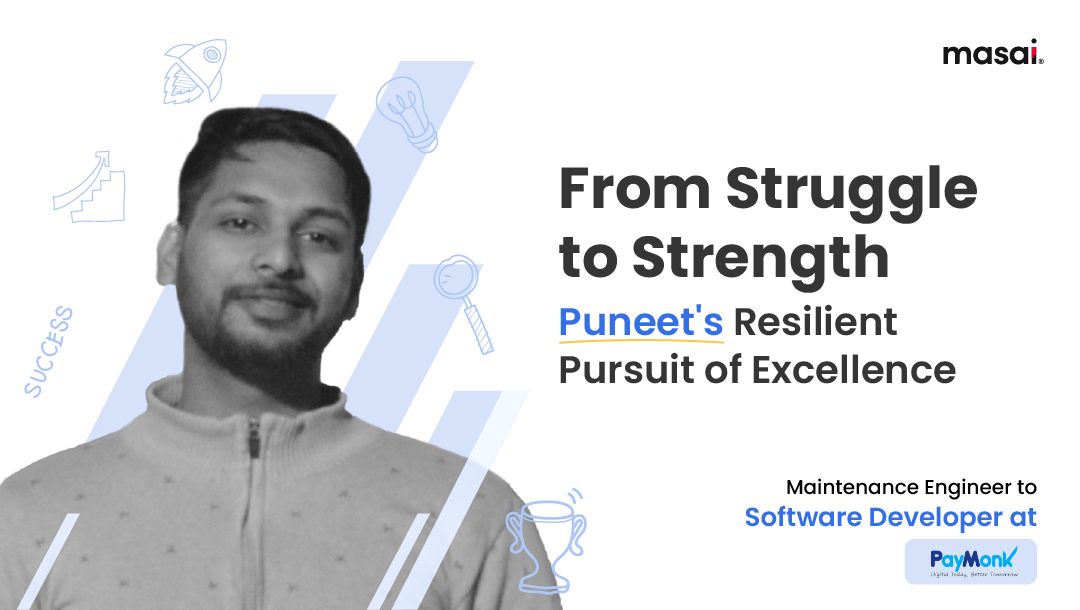 From humble beginnings in Jaunpur, Puneet's journey to success has been inspiring.
After graduating in the field of electronics and communication in 2021, Puneet initially found himself on a different career path, working on a job he secured through college placements. However, a burning desire to become a software engineer led him to make a bold decision.
Despite facing initial challenges due to his limited technical skills, Puneet took the courageous step of joining Masai, determined to transform his career.
Today, he stands tall as a full-stack web developer at Paymonk, proving that dreams can indeed come true with dedication and perseverance.
Discovering Masai
Puneet discovered Masai through his friends who were studying there. They shared all the information with him and had a positive outlook on Masai.
His friends told him about the support system in place, which made him feel confident and assured that he would be in safe hands. Since Puneet had known his friends for a long time and they had studied together for four years, he trusted them a lot.
Seeing how well his friends were doing in life after joining Masai, Puneet felt that it was a good option for him too. He didn't take long to decide in favor of Masai because of the strong bond and trust he had with his friends.
Parents' Reaction
When Puneet decided to join Masai, his parents had different reactions. His mother was a little, but his father wanted him to explore the option.
Puneet knew that leaving his job to study further was a risky decision. However, he believed in his dreams and took the risk anyway. His parents just wanted him to have a good job and lead a better life, so they had different opinions about his choice.
Despite the uncertainty, Puneet followed his heart and started studying at Masai. It wasn't easy, but his determination and belief in himself helped him overcome the challenges and achieve success.
Puneet's Masai Experience
Puneet found many great things about Masai during his journey. Firstly, he appreciated the curriculum, which was designed to be engaging and comprehensive. Contrary to initial impressions, the live classes lasted for two and a half hours only and did not feel overwhelming. In addition to this, the interactive sessions he had with the support system personnel ensured that he never felt burdened by the rigorous schedule.
Puneet also valued the evaluations, which helped solidify the concepts taught throughout the week. Additionally, the construct weeks provided opportunities to apply their newfound knowledge to solve real-world problems. The list of things he liked about Masai is extensive.
In the beginning, Puneet admired Swanand Kadam for his cool persona. He also appreciated the teaching approach of Manish Kumar, who ensured no student was left behind when learning React.
Overall, Puneet cherished the enriching experience at Masai, where he encountered dedicated instructors and a curriculum that prepared him for success.
11-11-6 Experience
Puneet actually found the 11-11-6 schedule at Masai comfortable. Before joining Masai, he had been working at a Chinese firm, and he noticed that Chinese people are known for being very hardworking individuals.
So, Puneet had already inherited that mindset of working long hours before joining Masai. That's why the 11-11-6 schedule felt manageable to him. Interestingly, Puneet mentioned that some of his friends now miss the rigors of the 11-11-6 schedule because they don't get to work that much anymore.
It just goes to show how different people have different perspectives on schedules and what feels comfortable to them.
Construct Week Experience
Puneet's experience during Construct Week at Masai was truly special.
It played a significant role in shaping the outcomes of the curriculum. The best part was that he got to apply everything he learned over a whole month in a real project. This gave him a chance to see how things worked in the real world.
These projects even helped him become better at managing his work and interacting with people. Construct Week was like a practical playground where Puneet could put his knowledge into action and learn valuable skills.
Placement Experience
Puneet's placement experience was a mix of challenges and triumphs. In the beginning, he faced waitlisting from a few companies he applied to, and the economic slowdown also played a role in delaying his placements.
Getting a job was really important for him, so he decided to explore options outside of Masai. He applied for jobs through external channels and received many opportunities.
However, breaking the barrier of a 5 LPA salary through LinkedIn was difficult for him as a fresher from a non-tech background. Fortunately, he came across interviews through Masai that offered him the job opportunities he was looking for.
The questions asked during the interviews were basic and similar to what he had been taught by the instructors at Masai. Their teachings had prepared him well for the interviews. When Puneet finally cracked a job and received an above ISA offer, his parents were delighted and felt proud of his hard work. This achievement earned him a lot of respect from his parents.
Difference Between Masai Different from Colleges and Universities
For Puneet, Masai was different from other colleges and universities in many ways. One thing he really liked was the placement portal in place. This portal made the entire placement process transparent and helped students gather a lot of information about the companies and their hiring status for Masai graduates.
This kind of transparency is something that is often missing in traditional colleges and universities. In those institutions, information is usually shared through WhatsApp or other channels, which can be confusing and unreliable. But at Masai, the portal ensured that Puneet and his classmates had all the necessary information at their fingertips, making their journey smoother and more informed.
Message to current & aspiring students
To all aspiring students considering becoming a part of the Masai curriculum, Puneet has some heartfelt advice.
He believes that choosing Masai would be the best decision they would ever make. Not only will they learn to code, but they will also have the opportunity to polish their communication skills and boost their confidence. Masai focuses on the holistic development of its students, which is like an added bonus on top of the coding knowledge it provides.