Meet the Placements team
Masai's placement team plays cupid where they match the students with the right companies, creating a win-win for everyone.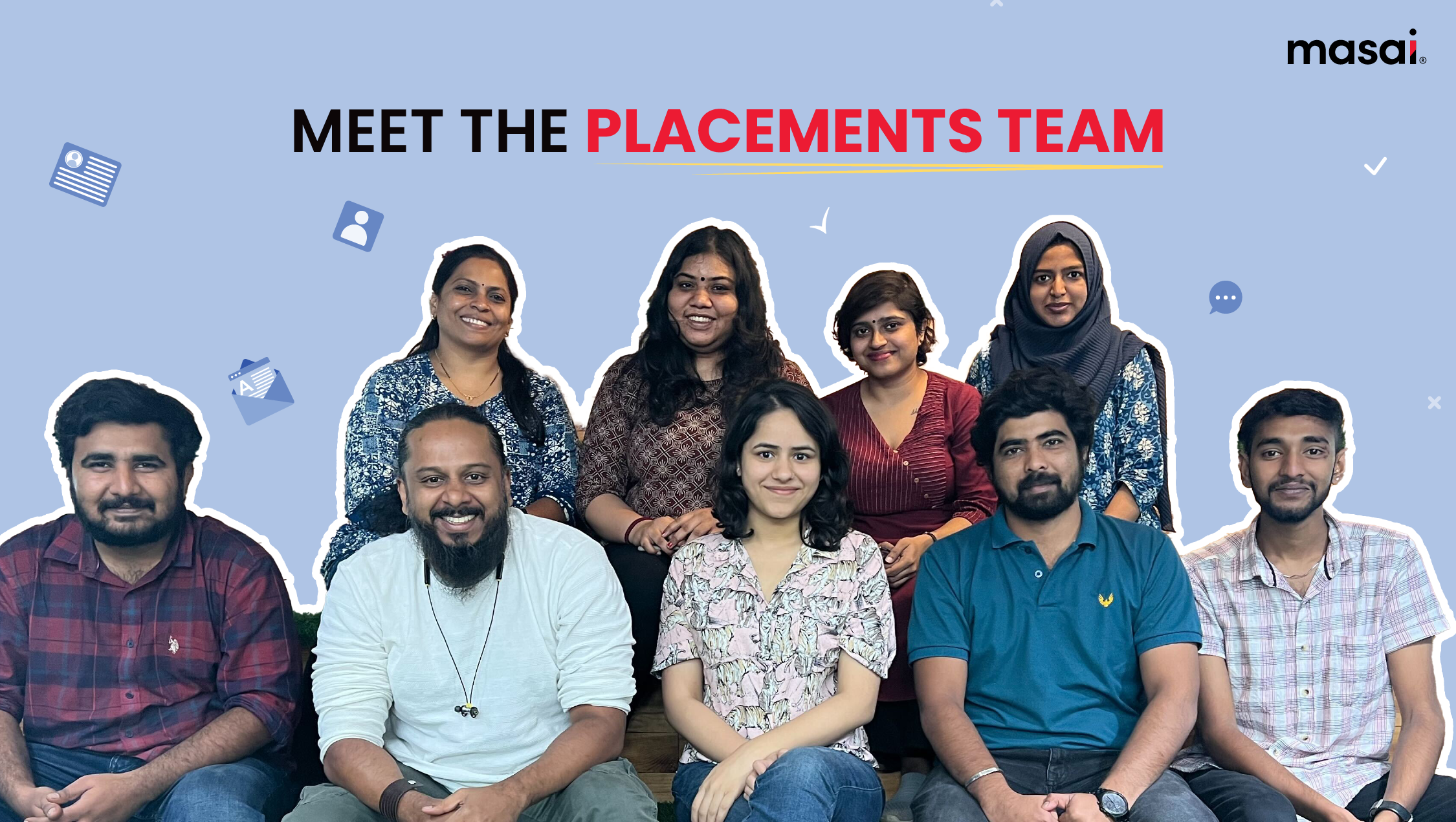 Over the last three years, Masai has placed over 1000 students, and you will be surprised to learn that most of our students come from non-tech backgrounds.
During the course, students undergo military-style training, where they study for 12 hours a day, six days a week, for 7 months. Each student devotes over 1000+ hours of their time to writing code and solving multiple assignments.
The skills our students have built while training with us are put to test during placements. Placements are at the center of everyone's attention because this is the time when the hard work of the student, curriculum, and team Masai yields fruition.
Masai's placements team plays cupid where they match the students with the right companies, creating a win-win for everyone.
Let's get to know the people that make it possible for Masai students to launch their careers!

Anoop Kumar- Director of Placements
Placement wizard
To lead the Placements team, you need someone entrepreneurial, who is empathetic and passionate about building careers, and that's where Anoop comes in to lead the placements team.
With almost 2 decades of experience in various roles, Anoop has donned multiple hats - From leading Talent acquisition at Dunzo to working as a Senior Consultant at Oracle to having founded his own startup - Anoop is a master in the placement tradecraft.
Anoop joined Masai with the intent to transform the education system. Managing the placements team is a very dynamic position that demands you to strike a proper balance to ensure everything runs smoothly. Anoop plays a vital part in establishing the Placement team that has enabled 1000s of students to reach their ideal careers. Anoop's upbeat and enthusiastic personality has made the work environment enjoyable and easy for the entire team.
He has learned the value of taking time for himself and caring for one's mental health through time. During weekends, Anoop likes to hang out with friends, take pictures, travel, garden, and ride vintage bikes.
A former teacher who writes, smiles and gets students placed.
One of the earliest members of the Masai Placement team, Gargi is a former teacher who taught Arithmetic and published papers on sustainable education before joining Masai.
Having taught in a middle school for a long time, she desired change and wanted to get into the administrative side, and that's when she stumbled across an opportunity to work as a Placement Coordinator for team Masai.
In Masai, she has grown tremendously as a professional and her role majorly involves being the link between the students and Masai's Business Development team, which brings in companies that hire our students.
Gargi is a master at balancing the tranquil and chaotic days at Masai with the same zeal. When Gargi is not working, she may be found socializing with her Masai co-workers, who are also her closest friends.
Vishakha Kamath- Operations Manager - Placements
From an engineer to a visionary
With 7 years of experience in the Social Impact space, Vishakha is a passionate educator with strong organisational and leadership skills.
She began her professional journey at Infosys but her volunteering experience at 'Make a difference foundation,' and her passion for education, made her switch careers. In only a few years, she became center head, a path that taught her about the difficulties that kids experience on a daily basis. She was actively working with TFI (Teach For India) and the Nirmaan organization to teach, develop and deploy various educational programs for students in various government schools around Karnataka.
Vishakha has strong people skills, which she honed while working long hours with students. Something that stands out is her perspective on leadership. She believes ‌a leader should strive for excellence by being empathetic and patient in order to help and support their team.
After work, you may see her socializing with her friends or attending parties. She enjoys reading anytime she has some free time on her hands and hopes to continue her work as a tutor in the evenings or on the weekends.
Warm-hearted Gandhi Fellow with an eye for operations and accelerated learning.
An engineer by education, Rahul forayed into teaching with back-to-back fellowships at Teach for India and IIM-Bangalore's Mahatma Gandhi National Fellowship. Using his expertise in business and public policy, Rahul has also worked with the government at various levels.
While working for Teach for India, Rahul realized the gap in our education system and began working to improve it in his own unique way. He created a system where students are segregated into different groups based on their strengths and weaknesses, concentrating on areas they require the most help. So when he came across Masai, it was the perfect match for his vision of changing the course of education.
At Masai, Rahul's role is to ensure placement processes are carried out seamlessly, allowing companies and students to communicate effectively. He also ensures that student interviews are scheduled, feedback is shared on time, and the entire placement process is carried out smoothly.
While Rahul stays busy with work all week, he likes to catch up with friends, watch movies, and play chess, and his infectious smile is loved by students, and colleagues alike.
Lilly Kulkarni- Operations Manager - Placements
Composing poems and enriching lives
From day one of Lilly's career, she has loved interacting with students and connecting with people. She has almost a decade of expertise ranging from sales to operations while balancing placements at the same time. In addition, she has spend five years at Princeton Review, where she managed the entire student lifecycle.
She was thrilled when she got the offer to work with Masai's placement team. Masai's vision of helping students by not taking any upfront fees made her realize that, with Masai, she now has the opportunity to help the community.
Besides spending time with her loved ones, Lilly enjoys composing poems. She has lately begun learning to play the keyboard on the weekends.
Ayesha Siddiqa - Associate Manager - Placements
Process-oriented healthy perfectionist

An engineer by degree, Ayesha found her interest in management, and today works with Masai as an Associate Manager.
With over 4 years of experience in the Ed-Tech industry, Ayesha has worked in various roles - as an HR, Sales, and managed heavy operations, and with all these experiences under her belt, she joined Masai to enable students to kickstart their careers in tech.
She is always calm and collected, with great people and organizational skills. Ayesha is a problem solver at heart, with a cool-headed approach to problems.
When Ayesha isn't at work, she spends time with her family and loves baking, which helps her to relieve stress.

Anu Sudhan- Associate Manager - Holistic Development
Anu is a person who truly believes that "Education can change your life"
Owing to financial troubles at home, Anu was asked to pause her studies at the young age of 15, but with her sheer determination and will to study, she bagged a scholarship and continued her studies to emerge as the State topper in economics.
Prior to joining Masai, Anu has worked with various communities, including the Adivasi communities of Wayanad, where she was responsible for creating educational programs and teaching the community members.
Her desire to work for the community, and to give back to the society stems from the fact that most of her higher education was funded by various community-led efforts, and with that comes her strong conviction that - "Education is the way to change your life".
She aims to work for equal education for all and to provide students with the right opportunities at the right time and thoroughly enjoys her role at Masai. She looks at her job with Masai as an opportunity to interact with the students, boost their confidence and enable them to build better careers.
Anu is a voracious reader. You can catch her reading any educational book, learning more about history during her free time, or playing table tennis in the office.
With over 5000 students currently enrolled at Masai, the placements team will play a vital role in helping students find the jobs they deserve, and with the enthusiastic, and passionate team that we have, we are confident that we will ace it, and contribute to India's growing tech economy.
If you're someone who's looking to kickstart your career, then Masai could be the place where your dreams come true. Know more about our courses here.