Income Share Agreement: A shot at career success
It acts as a foundation stone for students who don't have the financial means to pursue a degree or a certificate program.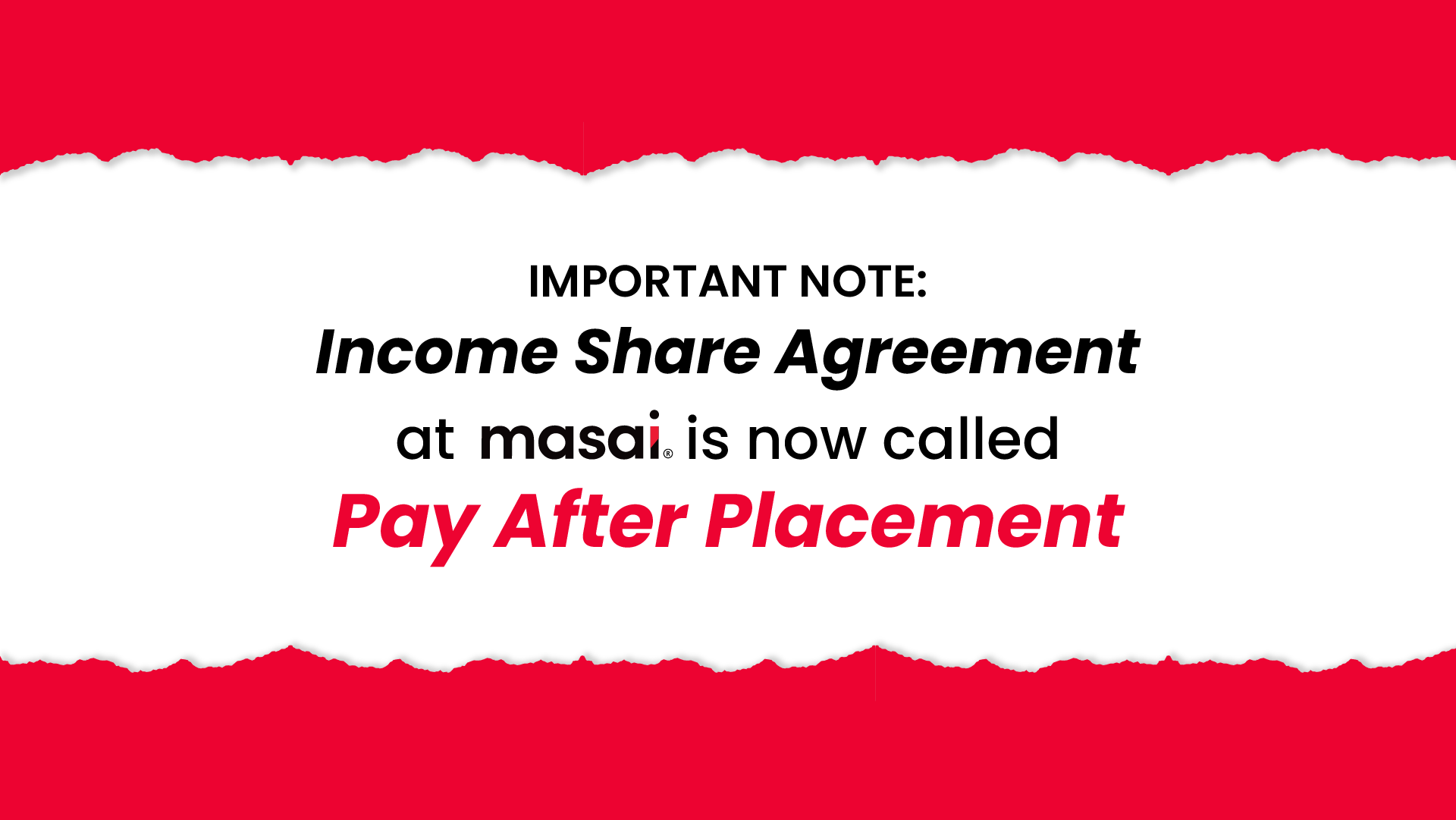 Introduction to Income Share Agreements
Income Share Agreement(now called Pay After Placement at Masai) is a contract or an agreement between a student and a school/course provider in which the school covers the student's education cost and in return, the student formally agrees to pay back a fixed percentage of their income for a set time period.
The basic idea behind an ISA is the value transaction happening between both parties – The student, and the Educational Institute. The student receives the value in terms of education and training, applies the value to get the right job then pays the value back to the school in the form of a fixed share of their income.
This "right job" is identified by a specific income amount which is agreed upon by both parties during the formulation of the contract. This specific income is known as the "minimum income threshold" and it varies from school to school.
Similarly, there are a number of other variables in an ISA including 'payment cap' and 'payback period' and we'll discuss each of them in detail in this article later.
The article contains:
Income Share Agreement in India
What's the need for Income Share Agreements? Is there space for ISA in the Indian Education System?
If we look over the existing models of education, we discover multiple shortcomings and developmental needs such as :
• Increased unemployment rate (7.2% in 2021)
• Expensive higher education
• Lack of practical knowledge and skill-based learning in the country
• Surge in the non-performing assets (bad debt) for education loans (9.7% in 2021)
Quite evidently, there are big gaps in the current state of the Education system, and that's where ISA programs have been fast emerging with a promise to fill these gaps. And till now, they've been delivering on this promise, be it placement or overall career growth. They often have a solid structure in place for skilled learning which helps big time in boosting the placement prospects.
Case in point, Ashish, a diploma holder in electrical engineering, found no value in the traditional education system of our country and had to resort to driving a cab to make his ends meet. Later, when he found out about the coding program offered by Masai School under an ISA, he saw this as the perfect opportunity and wasted no time in getting enrolled. Currently, he's working as a software engineer with WebEngage and leading a life worth his potential.
Watch this video to understand this from Ashish's perspective
There are many similar stories of students coming from different backgrounds, training with us, and getting placed in high-income jobs, all because of this revolutionary system of education called the ISA.
Where traditional education is failing big time, ISAs are determined on their way to solve these problems for the collective good of the community.
Today, a number of educational institutes, from Purdue University in the US to Kraftshala in India, are offering different courses under ISA.
But how does it really work? And what are the different variables that we mentioned earlier? Let's dive deeper into ISA and figure out why it is the "one shot at success" for you and thousands of other learners.
How do Income Share Agreements work?
In a nutshell, ISA is a contractual agreement between the student and the school/course provider which works like this:-
School bears the full education cost of the student.
In exchange, the student, upon landing a job, gives a fixed percentage of their monthly income as payment towards the school for a set time period. (Placement assistance provided by the school)
In theory, it's that simple. However, there are complexities based on the variations in the amount and terms for different providers, including the percentage of the student's income the school takes, the total cap on the amount that needs to be paid back, and the repayment time frame.
Let's make it more clear with an example:- Suppose, you were to enroll in the full-stack web development course at Masai School where :
Now, the minimum income threshold is the minimum income set by the school below which you won't be asked to make "any" payments.
Income share percentage is that fixed share of your income which you'll be making as payments to the school if you're making more than the threshold income mentioned above.
You might ask :- "What if I'm making a much higher income than the threshold? Will I be making excessive payments based on the fixed share?"
To tackle this issue, there is a payment cap which is the maximum amount you'll repay under any circumstances. It ensures that you and your batchmate who might be earning a lower income will pay the same amount to the school eventually.
Then, there's a payment period or payment tenure after which the ISA contract ends and you're absolved of all payments.
Bringing all these terms together to understand the repayment process in Masai School's case, it is concluded that a student will have to keep making payments until :
1) They kept making 15% of their monthly salary as payment towards ISA for 36 months,
2) They reached the maximum cap of Rs 3,00,000.
3) In case, they couldn't get a job above or equal to the minimum threshold i.e. Rs 5,00,000/year, they won't be making any payment.
This is at the heart of the piece for an Income Share Agreement. The fundamental value it stands for. If in the rarest of events you couldn't land a job, there is no payment required..
It acts as a foundation stone for students who don't have the financial means to pursue a degree or a certificate program.
This leads us to canvassing over the paramount 'benefits for students' under Pay After Placement.
4 ISA benefits for students
ISA is tailored to meet the various needs and conditions of the young generation with career development goals. And it has significant benefits over existing models of education, some of which are discussed below :
Insurance – ISA provides risk coverage to students in case they can't get a suitable job for a certain time period after graduating with the program. In such cases, they're not required to make any payment whatsoever.
Support system – There's a shared accountability between both parties. Schools encourage and enable students in ways to develop their careers starting from finding ample placement opportunities to helping them individually in detecting the shortcomings and maximizing their output.
Quality education – As the risks are aligned between both parties, students, most often, get access to productive education (including application) which helps them become practical, job ready candidates by the end of the program.
Good Placement Record – In ISA based schools, placement is the priority. They have a skills-centered approach to learning, one which the working sector needs. Therefore, they have better placement numbers.
ISA vs Student loan
The bad debts in education loans were estimated to be 9.7% of the outstanding loan at the end of December 2020. More than 3.5 lakh accounts that have availed education loans have been classified as non-performing assets (NPAs) out of the total 23.3 lakh accounts. (From an article in "Times of India").
Right. Almost 10% of the borrowers are not able to make payments to the banks. Think from their perspective, they'll further face penalties in the forms of default/penalty rate and damaged credit score. They're also most likely to be unemployed. They're constantly struggling to find a way out of the situation.
Can they focus on their career growth?
Do they have the freedom to choose a specific career based on their interest?
The answer to both the questions is pretty clear.
While on the contrary, ISA provides you with flexibility and a lot more financial stability since payments fluctuate with your ability to pay. (as far as getting paused in certain cases)
Let's try to understand a few other crucial differences between a student loan and an income share agreement through the given table :
Key differences between student loans and ISA
| | | |
| --- | --- | --- |
| Parameters | Student loans | Income Share Agreement |
| Security collateral | Approval of a loan requires collateral with a guarantor and a solid credit history. | No collateral asked here. ISA is offered based on a student's aptitude and willingness to learn. |
| Flexibility in repayment | Obligation to pay monthly installments with added interest regardless of your situation. | Payments are paused if you're not earning above or equal to the 'minimum threshold income'. |
| Time duration | No fixed time duration for the closure of the agreement. | A fixed payment term, post which you're absolved and free of all payments. |
| Accountability | No responsibility is withheld by the educators regarding your job or career. | Shared responsibility for success between both parties. |
Career with ISA
Now, nothing in life is guaranteed as we know, but taking the shot without having to worry about "what if I fail?" will surely make you more efficient and equipped. We all perform better under a certain sense of freedom, don't we?
This can turn out to be a big stride in the education industry and especially in India where there is so much of untapped, underutilized talent which has the potential to be a significant part of the workforce. They just need the backing. Income share agreement provides that backing.
It enables ambitious learners like you and Ashish to choose a career you're passionate towards and make it big in your lives.
And guess what? All of this starts with zero payment upfront, not even needing a traditional college degree. It's all YOU. Your intellect, your skills and your drive to succeed.
However, that being said, it is not always the ideal path for every student out there. ISA has its own barriers and ways of working which aren't necessarily meant for all.
Who shouldn't choose Pay After Placement?
Unwilling to work after completing graduation.
Looking to pursue higher education after the ISA program.
Not yet convinced about the industry or field of work they want to choose.
Thus, every student should first line down their goals and then minutely examine the structure of the ISA to see if it fits into their scheme of things and if it is indeed the best career path for them.
Pay After Placement at Masai School
Following the given ISA methodology, Masai school offers 30 weeks of full-time and part-time, live-practice-based, job-oriented courses in coding and development. And interestingly, any student, irrespective of their background (whether from commerce, arts or any other field) can apply and learn from the grass root levels, eventually master the chosen course, and get placed with a minimum CTC of Rs 5 lakhs.
Students can enroll with zero enrollment cost, clear the Masai School admission test (MSAT), and set sail for the journey with Masai School.
On condition that they get the job (worth Rs 5 lakhs or more as CTC) upon completion of the course, they'll pay 15% of monthly income + GST for a maximum of 3 years or until they have reached the payment cap of Rs 3 lakhs.
And if they're not able to land a suitable job, Masai School's faculty will work closely with them to identify the problems and equip them better for selection.
And if things still don't work out within a year of course completion, students are released from the contract and no payment is required under ISA.
So, what do you say? Are you ready to test out your potential and strive for success without having the burden and risk of student loans?
Are you ready to become a software developer and start working in a high-income job with practically zero investment, except for the hard work you're going to put in at Masai.
If yes, this is your shot at success.
Now, one should always make informed decisions and if you believe the same, check more about Masai School's ISA.
Learn more about the courses offered and the admission process at Masai.
If you're still on this page paying your valuable attention, we'd like to close by referring to an ultimate quote by Bo Bennet:-
"A dream becomes a goal when action is taken towards its achievement"
Take action and crush your goals. Cheers!