Best Pay After Placement Courses in India
There was a time when pursuing high-end careers was a far-fetched dream for underprivileged students in society. Today there are new and innovative education financing models that cater to these groups with pay after placement courses.
There was a time when pursuing high-end careers was a far-fetched dream for underprivileged students in society. Today there are new and innovative education financing models that cater to these groups with pay after placement courses.
According to a Times of India story, public sector banks declared 9.55% of their loans to be non-performing assets for the fiscal year 2021. This equates to nearly 3.5 lakh students who were more than three months late on their payments.
And there's nothing new about it. Indian students are always in a fix- whether to take huge loans for education or be content with an average college degree. Whether to go for a master's degree or get a good enough job to pay off loans?
And this is only a small fraction of the students we're talking about. Most of them don't even get to that stage to pick among options. The soaring unemployment rate in the country is not news anymore. It's discussed everywhere, from tea stalls to wedding ceremonies.
When you think about these students not finding jobs and still having to pay off debts, it paints a dispiriting picture. When you try to get to the root of the issue, the lack of better education financing models comes out as a huge roadblock for millions of aspirations that die in their shells. But, you know what? It doesn't have to be that way.
Luckily, today students have another pathway to pursue higher education and get on the road to success- Pay after placement.
Get an education without paying anything upfront, get a quality job, and then pay the tuition fee back to the institute in the form of a fixed share of your monthly income.
This is the very essence of pay after placement courses and it is facilitated by a contract called Income Share Agreement.
Today, there are many institutes that offer pay after placement courses based on income share agreement in all fields of work from software development, and data analytics to digital marketing and multimedia. You can choose courses based on your interest and build a career without having to spend a lot of money upfront.
This is the very essence of pay after placement. It's facilitated by a contract called Income Share Agreement.
So, without further ado let's look at the top pay after placement courses in India propelling you to the most demanded careers at present.
Note: This list has been curated after in-depth research on the programs and their outcomes. As a result, we have left out several programs that were either not so established or didn't have sufficient performance data.
For Full-Stack Web Development
This tech career is undoubtedly the most demanded and talked about career at present. Web development means building, creating, and maintenance of websites and web applications. Think about the thousands of websites and applications today that make our lives easier. Web developers are the people who are responsible for the platforms and the seamless experience delivered to us.
Full stack development is the process of producing and designing a website through all of the engineering stages and layers by a single individual. Full-stack developers can handle both the front-end (client-side which users can interact with) and the server side of a website.
Businesses across all sectors, from startups to large multinational enterprises, are looking for full-stack developers. Companies are willing to shed decent money to get them on board as they consistently outperform specialists who specialize in just one or two tasks.
According to a 2019 report, the average income for full-stack developers in India is 6.25 lakhs to 14.22 lakhs per year.
Masai is one of the leading institutes in India that offer full-time and part-time courses in full-stack web development, catering to different sets of individuals.
The unique part of the offering is that students can start studying at zero upfront fees and only need to pay once they're placed with a minimum CTC of INR 3.5 LPA. They operate on a Pay After Placement model; wherein placed students pay 15% of their monthly income towards the contract for a maximum of 3 years, or up until INR 3 lakhs, whichever comes first.
Here's finance influencer Akshat Shrivastava talking about the PAP model:
The full-time course has a 30-week duration and requires attendance from 11 am to 11 pm six days per week in an intensive and immersive curriculum. Whereas the part-time course requires a commitment from 8 PM to 11 PM on weekdays, and 10 AM to 5 PM on Saturdays.
Owing to the industry-relevant training and project-led curriculum, Masai boasts of a tremendous 96% placement rate to date, having started in the year 2019.
To enroll in the full-time program, you must be 18-28 years of age and should have cleared the 12th standard or an equivalent diploma. For the part-time course, you should either be a working professional or appear in the last year of your graduate degree at the time of application.
Thousands of students have found success with Masai with the highest package being INR 36 LPA, and the average salary being INR 7.5 LPA.
For Digital Marketing
All marketing activities that take place online are referred to as digital marketing aka online marketing. To engage with present and potential customers, businesses use digital channels including search engines, social media, email, and other websites. This also involves messaging via text or other types of multimedia.
The study of digital marketing often encompasses- Basic marketing strategies, how to run Facebook and Google ads, designing long-term campaigns, organic marketing, SEO, etc among other concepts.
Sounds like interesting work?
Kraftshala is one of the most popular institutes that offer digital marketing and brand-building courses on the pay after placement model. For entry-level roles, they have the 'Marketing Launchpad Program', a 20-week online, full-time course specializing in Digital Media and Content & Social Media.
After course completion in 12 weeks, their placement cycles start where students get to intern for 2 months with leading marketing agencies and product-based companies.
Students only need to pay once they get placed with a minimum CTC of INR 4.5 LPA. They also offer programs for manager-level roles and B-school students.
Varun Satia (ex-Nestle, ex-FMS) and Eshu Sharma (ex-HUL, ex-FMS) set up the institute in 2016 with the vision of making aspirants job ready from day 1. And perhaps that's the reason, most of the instructors and mentors on the platform come with industry experience.
For Data Analytics
Here's another frequently talked about career- Data Analytics. It falls under the vast domain of data science (which comes later in this article). Data analytics refers to the process of studying and making sense of quintillions of unstructured data circulating around us, for driving product and business decisions.
A normal day in the life of a data analyst includes data collection, data cleaning, conducting analysis, and producing readable reports.
In terms of career scope, big data analytics has been forecasted to be the most in-demand skill in 2022 by the Economic Times.
In many ways, analytics is the perfect launchpad to get into the data science industry, for a beginner. So, how can you become a data analyst? Enters- Masai. Again!
Masai provides a part-time 30-week program that requires attendance from 7 PM to 12 AM on weekdays, and 3 PM to 10 PM on Saturdays.
The program covers Advanced Excel, SQL, Python for data science, Tableau, Probability & Statistics, and Machine learning among other concepts and case studies.
To apply for the course, you need to be 18-28 years of age. Also, you must be either a working professional or appear in the last year of graduation from any educational background.
The fee structure for the course is the same as our full-stack web development courses. You only need to pay if you get placed for a CTC of INR 5 LPA or more, else you learn for free.
For UI/UX Design
Two of the phrases used in web and app design that get mixed up and confused the most are UI design and UX design. Both these disciplines also fall under the most lucrative careers at present.
UI i.e. user interface refers to the graphical layout of a website or an application. It consists of all the objects that users interact with, such as the buttons they click, the text they read, the graphics, sliders, text entry boxes, and the rest. UI designers mostly think and function like graphic designers. It is their responsibility to ensure that the interface of the application is appealing, aesthetically interesting, and correctly themed to reflect the function of the app.
Whereas, UX stands for user experience. Is the experience slick and natural or awkward and perplexing? Does it feel rational or random to navigate the app? In other words, user experience determines how easy or difficult it is to interact with the user interface elements created by the UI designers.
As you can see, both these roles are closely related and can also overlap in certain situations.
Talking about pay after placement modeled courses for UI/UX design, Dropout Academy comes first to mind. They offer an integrated UI & UX design course spanning over 12 weeks. The online classes take place on the weekends where you'll be taught everything about UI & UX design along with 20+ assignments and a capstone portfolio project.
Only if you land a job within six months of finishing the course, will you be required to pay. The first EMI payment is due within one month of starting your new work. The payment will not be made in one lump sum but rather will be split up into EMIs that can last up to 18 months and are determined based on your CTC in the new job.
Dropout Academy boasts a 90% placement rate with the highest salary being 15 LPA for a UI/UX designer.
For Backend Development
Masai offers a level-2 backend development course designed to elevate the careers of working professionals who have a minimum of 1-year of relevant tech/coding experience in the industry.
After the course completion, you'll have the opportunity to get placed in a senior software developer role in tier 1 companies like Amazon, Dunzo, Uber, Adobe, Cisco, Goldman Sachs, HackerRank & more.
Classes will be conducted from 8 PM-11 PM on weekdays (Mon-Fri) and from 10 AM to 5 PM on weekends(Sat & Sun).
Eligibility
As mentioned earlier, you need 1+ years of tech experience to apply for the course. You could be from any branch or hold any degree but you must have one year of coding experience. The admission process will consist of a coding test and a technical interview.
What You'll Learn
Given below is a snapshot of everything you'll learn in the course offered by Masai.
Fees & PAP
It is a pay-after-placement modeled course which means you wouldn't have to pay anything upfront. And you only get to pay if and when you get placed with a minimum CTC of INR 10 LPA, else you learn for free. (CTC- Cost to Company is defined as the total gross income earned, including but not limited, to variable pay, compensations, and ESOPs.)
Students who get placed within a year of the course for the said CTC will have to pay a maximum of INR 5 lakhs from their post-course salary divided over a period of 3 years or less.
For Data Science
The field of data science has been much talked about in recent years. Data Science is an interdisciplinary field that deals with studying vast volumes of raw unstructured data using scientific methods, algorithms, modern tools, and techniques to find useful patterns, derive meaningful information, and drive business decisions.
Data science is a vast field that includes subsets like data analytics, business analytics, data engineering, etc. A data scientist has a decent understanding of all these subsets. Many a time, the roles and duties of a data scientist might overlap with that of an analyst or an engineer.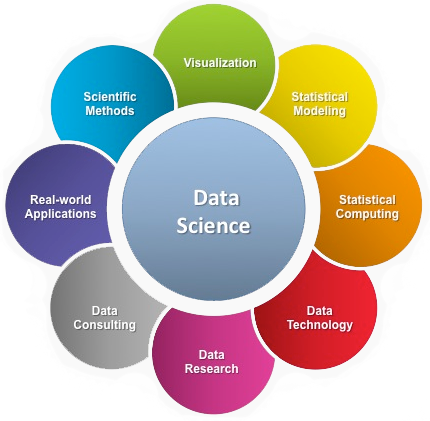 And many a time, the road to becoming a data scientist goes through data analysis or data engineering.
But that doesn't necessarily have to be the case every time. Even freshers can enter the industry as data scientists. There are plenty of good courses in India today that teach data science from scratch. Considering the study-now-pay-later model, Intellipaat comes to the top of mind.
Intellipaat offers a 6-month program that includes live classes from top industry experts, self-paced classes, mock interviews, and soft skills training. The curriculum focuses on practical exposure as there are multiple mini data science projects and coding contests throughout the program. Students get to work on capstone projects such as Twitter sentiment analysis or Netflix movie recommendation engine.
The program starts at zero upfront fee (like most programs on this list) and you only need to pay once you start earning INR 5 LPA or more. Furthermore, your payment is capped at INR 2.5 LPA if your salary is between INR 5-8 LPA, and at INR 3 LPA if it's above INR 8 LPA.
Make a conscious effort to communicate with peers, mentors, and industry experts. Networking can bring new opportunities and is a great way to gain more insight into the career of your choice.
Tips to Ensure Success in Pay After Placement Courses
So, you're finally convinced that you want to opt for a pay after placement course. Here are a few tips to ensure you stay on track and make the best of this option.

Work out a schedule that balances learning, projects, and rest. Use a combination of study techniques such as the Pomodoro method for focused learning. You can also try out productivity strategies such as time blocking and batching to ensure you make the most of the time you have at hand.
Make a conscious effort to communicate with peers, mentors, and industry experts. Networking can bring new opportunities and is a great way to gain more insight into the career of your choice.
If you're following the curriculum to the T, half your job is done, but it's equally important to go the extra mile. Take the initiative to learn more about related topics, work on personal projects to build up a relevant portfolio, and apply your skills in real-world scenarios.

The job landscape is ever-changing and it is crucial that you strive to constantly upgrade your skills. Pay after placement courses offer a unique opportunity; plan strategically for developing your skills on a regular basis to ensure a successful career launch.
Final Thoughts
So, these were the top pay after placement programs in India to launch your career in the corporate industry at zero or minimal payment upfront. There was a time when pursuing such high-end careers was a far-fetched dream for underprivileged students in society. Today there are new and innovative education financing models that cater to these groups out there.
We hope this article reaches out to the students in need and cast a positive influence on their life and career decisions.
We'll keep updating the article as new and trusted programs appear on the radar in various fields of study.
Cheers!
FAQs
What is the difference between Data analytics, Data Analysis, Data Mining, Data Science, Machine Learning, and Big Data?
Data analytics and data analysis involve examining data for insights. Data mining discovers patterns. Data science combines analysis and domain knowledge. Machine learning enables systems to learn autonomously. Big data handles large datasets.
What are the best online web development courses?
What are the best online web development courses?
There are several great courses out there for online web development. Masai School also offers comprehensive courses for Software Development and Data Analytics.