Top 10 movies/web shows every developer should watch
Programmers are well aware of the stress that may accompany their work. They need to be creative, get things done, and get inspired. What better way than to watch movies? Right?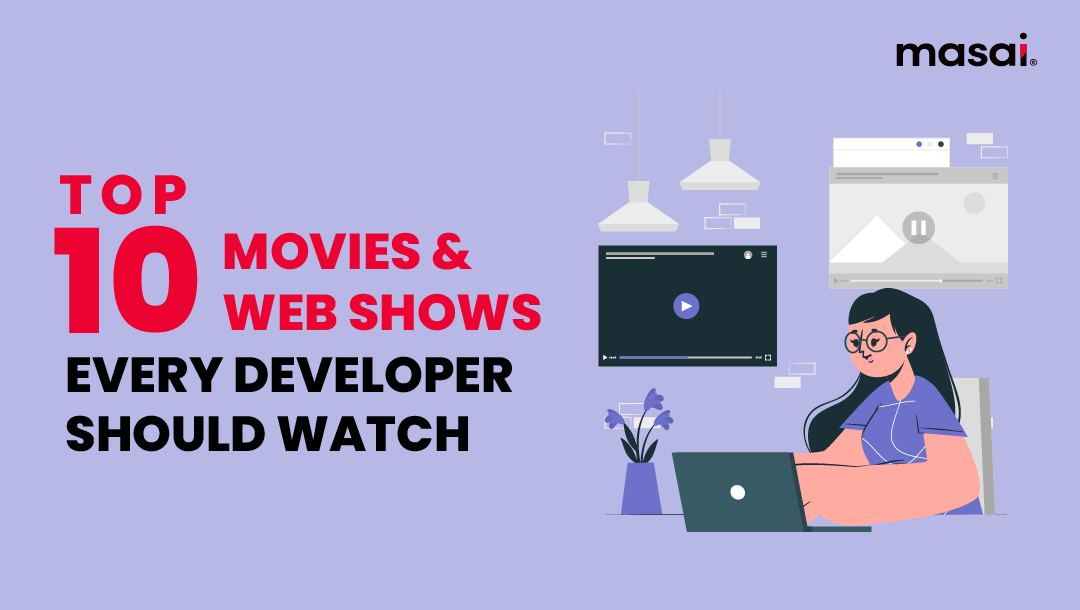 Introduction

After a hard day of coding, there's nothing like kicking back with a movie to unwind.
Movies aren't just for entertainment; they can also serve as a source of inspiration or an idea when people are in a slump. Good movies do a lot more than just make them laugh or feel sad. If people try to learn something from the story and are open to the experience, it can teach them a lot.
Programmers are well aware of the stress that may accompany their work. They need to be creative, get things done, and get inspired. What better way than to watch movies? Right?  
We've compiled this list, keeping in mind that everyone has a distinct set of preferences and choices. We hope that some of these movies will inspire people, make them laugh, or will take them to another world altogether. One thing common in all these movies is the love for coding and the life of a developer.

The Social Network

The movie is a biographical drama film that tells the story of how Mark Zuckerberg built Facebook, one of the most popular social media platforms in the world. David Fincher directed the movie, Jesse Eisenberg played Facebook founder Mark Zuckerberg and Andrew Garfield played Facebook co-founder Eduardo Saverin.
This movie runs in flashbacks where Mark is battling two lawsuits simultaneously. One where the former co-founder Eduardo Saverin claims, Mark, diluted his stakes in Facebook. The second one was by Winklevoss twins who are suing Zuckerberg because they say he stole their idea.
There is a lot more to building a business than just creating and investing. This also means that you might get dragged into lawsuits. The social network is a brilliant depiction of how Zuckerberg built Facebook despite all the odds.
The Internship

We guarantee this film will make you laugh and motivate you to never give up on your dreams. Turning over a new leaf doesn't have an age restriction, regardless of where you started.
In the movie, Billy and Nick are two middle-aged men who have recently lost their jobs and are applying to Google's highly competitive internship program. They are both accepted into the internship program at Google's headquarters. To succeed here, they'll have to beat out a new generation of tech-savvy kids.
During the internship program, they are divided into groups with college kids who obviously mock and disrespect the older generation because they don't want them to slow the team down. During the game of Quidditch, the entire team finally comes together and starts building products that solve real-time problems for businesses.
The Billion-Dollar code

Did Google Earth steal Terra Vision's code?
"The Billion Dollar Code" is based on a real patent dispute: It is an interesting look at how art and technology came together in the early days of the Internet.
At the beginning of the movie, there are two inventors who came together to develop a way to show a picture to a user with a "selectable viewpoint" that takes into account where the user is and what direction they are looking. Today, we know this as Google Earth, which is claimed to be the original idea of Terra Vision's two inventors.
This mini-series is a wake-up call for everyone, not just for people in tech, but for all those who want to start their own business. The Billion Dollar code is a story about how big tech companies swallow up the small companies that there isn't even a trace of them.
The Imitation Game

The Imitation Game is a real-life story of Alan Turing - An English Mathematician, computer scientist, and cryptanalyst who played a key role in breaking the Nazi Enigma code that led to the victory of the allies in World War 2.
This movie has a lot of raw tension and emotions exploring the horrors of war along with the choices that doom humanity. It has a theatrical rhythm and very sharp attention to detail that keeps the audience completely immersed.
Turing's work was kept hidden for a long time because he was homosexual, which was a crime in the 1950s. It is disheartening to learn that someone who made such an important contribution to history is being kept hidden away simply because our culture cannot accept Turing's true identity. This masterpiece was directed by Morten Tyldum and written by Graham Moore.
Mr. Robot

Unlike typical Bollywood/Hollywood movies where hackers are portrayed in a funny manner, Mr. Robot comes as a refresher as it portrays hacking, and the hackers in a very realistic manner, this web show is praised for its extensive research by real-life cybersecurity pupils from all over the world
The main character in "Mr. Robot," Elliot Alderson, is a cybersecurity engineer by day and a vigilante hacker by night, helping people who can't defend themselves. Later, he joins a group of hackers called "fsociety", which is based on a real group of hackers.
Black Mirror

Black mirror is not like your typical web series that follows a specific storyline with the same characters. This one is a collection of different stories that revolve around the modern implications of tech, and what the future holds. Every episode features a perfect blend of cutting-edge technology and a compelling storyline, making it both exciting and enjoyable.
The plot of this series isn't very easy to sum up. The only way to know the story is to watch the series, and it's good that you can miss a few episodes without feeling like you're missing out on anything.
Her

Would you ever be so lonely that you'd want to talk to an AI robot to make yourself feel better?
"Her" does an excellent job of illustrating how individuals might feel alone in this world and how dependent they are on modern technology. They set it for a somewhat close time in the future. It depicts the narrative of Theodore Twombly (Phoenix), who falls in love with "Samantha," a high-tech operating system whose voice is given by the alluring Scarlett Johansson.
This movie will take you on an emotional roller coaster that will have you laughing, crying, feeling alone, and heartbroken all at the same time. As a programmer, you will learn that technology is always changing and that you are a part of that change. You have the power to inspire individuals from all walks of life and give flight to their imaginations.
Pirates of Silicon Valley

The Pirates of Silicon Valley is a movie that draws comparisons between two of the greatest minds to have ever blessed the world of computer science. But, the movie does not speak about either one of them in the most flattering way.
It takes a deep dive into what goes behind the scenes of organizations that are looking to get ahead of one another in a race to deliver products that would change the way people interacted with science and technology.
A programming enthusiast would love watching Pirates of Silicon Valley, which depicts the evolution of the personal computer while also delving into the conflict between Jobs and Gates.
The Source Code

The Source Code is a thrilling science fiction movie that riffs on the evergreen concept of time travel. In the film's universe, the source code is a time-loop program. Jake Gyllenhaal, the protagonist, finds himself in someone else's body with only a mysterious voice instructing him about his mission.
He has merely 8 minutes to figure out the bomber on the train and stop the other bombings across the city in this nail-biting thriller. The high octane situation makes for an exciting watch, especially for fans of the genre.
Transcendence

When Will Caster dies, his wife Evelyn uploads his consciousness into a quantum computer. This is the premise upon which Wally Pfister builds his thought-provoking sci-fi fantasy. From here on out, the story revolves around how Will comes to grips with his new virtual form and the weight of decisions that come with it.
Some swear by Transcendence as one of the best movies of its genre. And the wonderful performances alongside its AI themes make it a perfect pick for developers hoping to kick back and relax.
Silicon Valley (Web Series)

This is a series all about catching up with the realities of people in the tech world.
As the name suggests, this movie talks about the realities of tech in silicon valley. A heart-gripping comedy TV series that walks us through the ebb and flow of a startup founded by very close-knit friends in tech. The latest season showcases an amusing scene in which Thomas Middleditch addresses a Senate committee on Data Mining!
From hilarious moments that'd have you burst out laughing to scenes that every programmer could relate to, Silicon Valley never lets go of the audience. It has the right set of technical concepts; however, it still remains exciting for non-tech people. And is sure to be on your favorites list in no time.

These are only a few of the movies/web shows that made it to the list, but there are a few more that'll blow your mind and give you a brief detour from your daily routine. Here's a list -
The Fifth Estate
Revolution OS
Ex-Machina
Hacker
These are some movies that we highly recommend to every techie or programmer because these movies will not only inspire you and help you learn the world of tech a little better.
So, What are you waiting for? Go ahead, grab some popcorn and start binging!