Talent Challenge in a Recession: Measuring ROI and Driving Results
"There's no denying that with technology and different data modeling and analytics in place, one can make a long-term map, and correct and replot an employee's direction in an organization."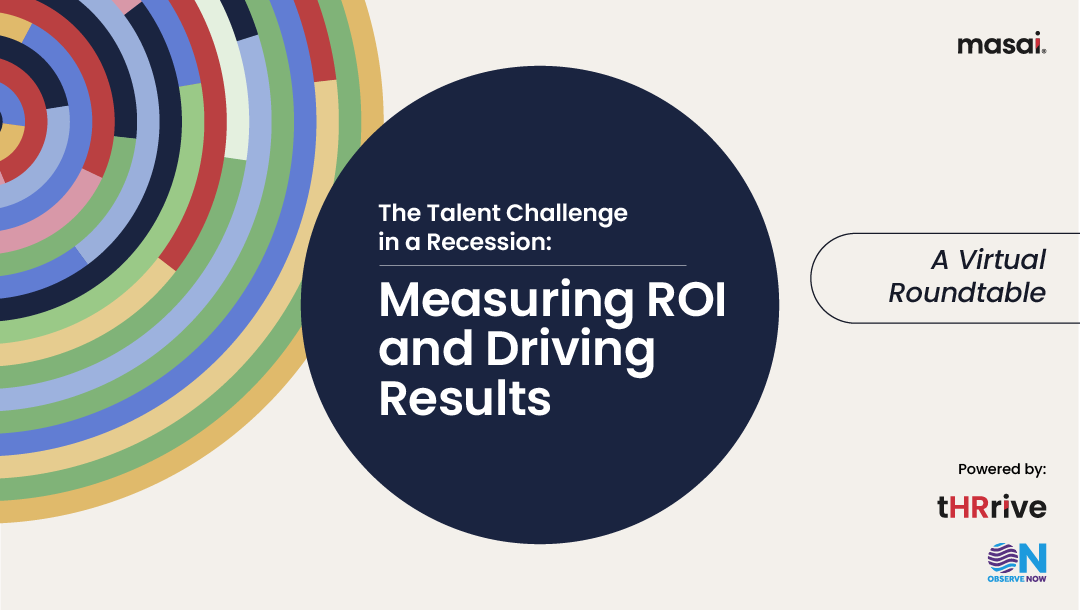 The world has been in the midst of some very uncertain economic conditions for almost a year now. Layoffs, banks collapsing, funding winter, and recession have become common parlance.
India has been relatively insulated from a full-blown recession but the economic conditions in the West have certainly trickled down to India Inc. IT giants like Infosys and TCS have posted below-expected earnings in Q4 2022-2023, leading to a dip in their market value.[1]
The same quarter also witnessed a 75% drop in startup funding as compared to the same quarter in 2022.[2] Also, 2023 alone has been witness to almost 38000 layoffs in India as of 20th Apr.[3] Restructuring and cost-effectiveness are currently the norm.
At this juncture and in the midst of all of this modern complexity, all things talent i.e. acquisition, management, engagement, etc. have become that much more significant. Acquiring the right talent, giving them a sense of purpose and growth, and at the same time maintaining cost-effectiveness, are but a few of the major challenges that they must tackle.
It is with this in mind that on Apr 20, 2023, Masai brought together some of India Inc's top HR leaders for a virtual roundtable discussion moderated by Ankur Kayesth, Senior Vice President, Masai. They were:
Shaakun Khanna - Vice President & Head Human Capital, SaaS Alliances & Channels, Asia Pacific, Oracle
Pratima Gupta, India HR Head, Sequoia
Abhijit Puri - Senior Director, LTIMindtree
Vinothkumar Manickam - Talent Acquisition Leader, Schneider Electric
Stita Misra - India Head Customer & Business Operations Hiring, VMware
The topic at hand? The Talent Challenge in Recession: Measuring ROI and Driving Results.
But why does a "talent challenge" exist at all? In a country that produces some 65 lakh college graduates annually[4], surely there's more than sufficient talent to meet all of India's requirements.
Unfortunately, these numbers do not reflect what a degree should ideally represent - skilled talent. India Inc. is facing a massive talent shortage caused by the humongous skill gap that exists between what's required and what's available. So dire is this situation that experts are openly calling degrees from Indian colleges worthless now.[5]
Is skill the new currency for hiring?
According to Shaakun, the drastic decrement in the shelf-life of skills has been a major contributor to the prevailing chaos. With new technologies emerging almost on a quarterly basis, there's a need for people to realise the importance of agility and adaptability in learning.
Stita adds, "A lot of people are joining the workforce by virtue of skill sets that are different from what they've learned in college. It's about individuals capitalising on moments rather than depending on orthodox ways of career development"
This couldn't be truer considering how business needs are evolving and how organizations are constantly pivoting to new strategies and operations. A case in point is the recent push for Artificial Intelligence by Google and Microsoft. In fact, as per the World Economic Forum's Global Risks Report 2023[6], AI and technology will displace around 85 million jobs by 2025. At the same time, they are expected to create 97 million jobs.
This reflects the need for agility and adaptability among working professionals. Today, one can't attribute say a 10 years long career to an inflexible resumé and hope to climb up their career ladder in one place. Candidates that recently started their careers as software engineers will need to constantly upskill themselves in emerging technologies or risk becoming obsolete.
But this evolution isn't limited to the candidates themselves but must occur across the board including talent acquisition. TA teams must modify their metrics, and hiring processes and see talent through a different, more dynamic lens.
Abhijit concurs. "From screening hundreds of resumes in Word files the whole day, we have come to a place where AI tools can screen thousands of files in one go. If we're not adapting to technology, we're going to be obsolete"
The need for the evolution of metrics has been further necessitated by the change brought into work by the preceding pandemic years, as expressed by Vinoth.
He further stated that the entire operating model of talent acquisition has changed because of this making it an interesting time to create and navigate the future.
The question now is how metrics must evolve to reflect this transformation.
Evolution of metrics in a post-pandemic world
Let's take the example of remote work. No longer is working remotely an exception that is granted as an accommodation in special cases. It has become an industry norm due to the rapid digital transformation triggered by the pandemic years. This has necessitated Talent Acquisition teams to start prioritising transferable skills such as communication, resilience, and empathy in candidates in addition to the necessary hard skills.
"We aren't looking for a T-shaped skill metric, rather we want all-rounders with improv skills. There has been a paradigm shift in our thought process when it comes to skill requirements", affirms Pratima.
Measuring the effectiveness and ROI of your talent strategy
With this changing landscape in terms of hiring which encompasses far more than pure hard skills and domain knowledge, it's also important that an organization establishes solid metrics and data points to measure the effectiveness and ROI of the candidates.
Shaakun looks at it from three different lenses at Oracle:
What's the impact on the outcomes they're trying to generate whether it's about adapting to the tech transformation or about bringing disruption in tech?

What's the impact of the strategy on their people? It matters specifically for service-based businesses wherein the majority of the cost is the people's cost.

What's the impact of the strategy on the stakeholders i.e. B2B clients?
Pratima adds a unique perspective of measuring the 'innovation index' within an organisation. If shortlisting talent based on improvisation and innovation skills is the new normal, are people really creating and thinking in new ways that could impact the business goals in terms of efficiency, effectiveness, engagement, and turnover ratio?
One strategy that is being adopted by companies today is building and nurturing talent in-house. It can be a rather cost-effective strategy and also creates a win-win scenario for everyone involved.
But again, how does one measure the effectiveness of this strategy?
If we're investing in reskilling and upskilling, what is the delta benefit per employee's productivity?
There's no denying that with technology and different data modeling and analytics in place, one can make a long-term map, and correct and replot an employee's direction in an organization.
Are organisations willing to do that?
Abhijit says, "If we represent ourselves as a profit-centric organisation in contrast to cost-centric, we need to invest in internal tools, automation tools for HR & TA teams, and as is being seen in recent times, investments in generative AI tools are giving the best ROI"
A new hiring challenge
Another challenge that has reared its ugly head in more recent times is the legitimacy of the candidature.
Playing the devil's advocate given the preceding Ankur posed the question of a fool-proof way to really measure the skills claimed by candidates.
"Given the lack of opportunities from an economic point of view, if degrees were removed from the equation, wouldn't there be a high motivation among candidates to hack the system?"
Expanding further he gave the example of take-home assignments wherein there was no stopping a candidate from completing the assignment with someone's help.
"At least degrees have a bit of sanctity," he said.
Unfortunately, in the Indian context, degrees are no more a reflection of a candidate's skills than them making a self-proclamation of the same skills. This is reflected in the fact that of the 15 lakh individuals graduating with an engineering degree annually, a paltry 20% are deemed employable.[7]
This is the reason that some of India's largest IT firms developed and administered various internal exams for their candidates in recent times to test them on their claimed skills and a lot of them weren't able to make it through, surprisingly.
"With the emergence of new generative AI, these problems will only get aggravated" adds Shaakun
This is a serious conundrum that remains unanswered for now but may actually end up finding the solution in technology itself.
The road ahead
As a job candidate, all you should be thinking is - "How do I become employable in the market? How do I get one job for myself, no matter what's happening overall in the industry".
After reading newspaper headlines and articles about the recession, many individuals start developing a macroscopic worldview, which is not at all necessary or accurate. If companies are laying off personnel, they are also hiring for new roles. It's mostly up to the individual how they can make themselves useful in the current scenario.
At the same time, the cyclical nature of recession means that these conditions are not permanent, and recessions eventually rebound to expansion and growth. All this while, technology will continue to evolve. It's up to the talent acquisition and talent management teams whether they're prepared to adopt novel strategies time and time again and develop new metrics for validating a wide spectrum of talent or not.
---
Sources:
[1]- https://www.moneycontrol.com/news/business/stocks/nifty-it-dips-over-2-as-tcs-misses-street-estimate-infy-likely-to-put-up-a-poor-show-10406461.html
[2]- https://yourstory.com/2023/04/indian-startup-ecosystem-funding-declines-by-75-percent-in-q1-2023
[3]- https://layoffs.fyi/
[4]- https://www.thehansindia.com/hans/young-hans/why-do-graduates-struggle-for-jobs-in-india-745646
[5]- https://economictimes.indiatimes.com/jobs/fresher/worthless-degrees-are-creating-an-unemployable-generation-in-india/
[6]- https://www.weforum.org/reports/global-risks-report-2023/
[7]- https://indianexpress.com/article/jobs/over-80-indian-engineers-unemployable-lack-new-age-technological-skills-report-5636473/