Masai's 5 level support system for students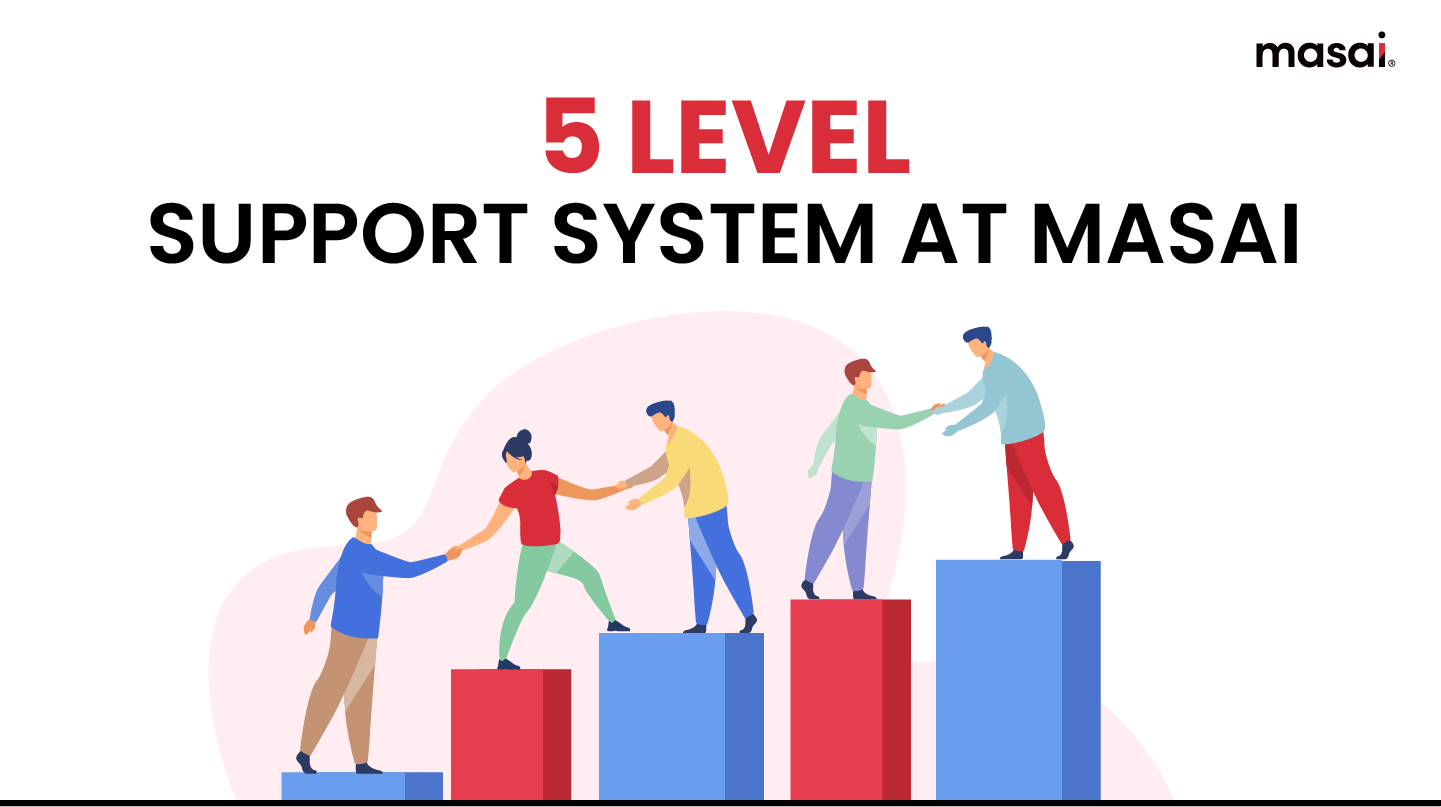 On average a Masai student would spend 1200+ hours writing code, solving 100s of assignments, and working on several projects before they graduate, and get placed as Software Developers.
All of this learning and practice happens in a duration of 30 weeks, and thanks to Masai's 5 level support system, our students have a seamless learning experience.
In this blog, we will understand more about this support structure available for our students.
Understanding the 5 Level Support System at Masai School
At Masai School, our core focus is to make students disciplined, hard-working, and good problem solvers who can code, communicate their ideas effectively, and contribute towards the growth of the companies they get hired at.
Therefore in the 30-week curriculum, our students not only learn to code, but alongside work on other skillsets such as their Communication skills, and other Soft skills such that they can emerge as competent professionals.
With our 5 Level of Support system, we ensure that our students receive all the attention, and support they need to succeed. Let's explore the 5 Pillars of support.
Instructors –
Our Instructors are seasoned developers who have a passion for teaching and are committed to providing the best learning experience to their students. We have instructors who specialise in different specialisations and take LIVE classes, thus our students get a comprehensive idea of what they are learning. For example – Our instructor – Swanand Kadam, inventor of Kalaam teaches Javascript and advanced Javascript to the students.
One of the instructors for Data Structures and algorithms is Aman Vats, and apart from that our team of instructors are experienced teachers who are passionate about teaching, and enabling people to do more, and be more. Every time Masai alumni gets placed, they tag almost every instructor in the team, they are flooded with messages of gratitude, and that is because of the impact they've been able to create in the lives of the students in a short span of just 30 weeks!
Instructional Associates –
Instructional Associates are former Masai students who have stepped up to help students in their journey's at Masai School by helping them solve doubts, hosting 1-o-1 sessions in case students need help, performing random checks on student's assignments, and doing every possible thing to assist the students and make their journey's smoother, here at Masai.
Instead of sitting for placements, an IA spends more time in the Masai ecosystem to revise their concepts to further strengthen their knowledge and to build leadership and managerial skills by helping other students –
Revise their concepts, and improve their performance
Review projects by students
Solve student doubts
Support students emotionally
IAs are the backbone of Masai's educational support, and they are best suited to help Masai students since they too have experienced this journey as a student, and hence better equipped to empathize with them, and help them accordingly.
Career Coaches –
A career coach is a part of the Masai team, and they are someone who provides 1-o-1 tailored guidance to the students, thereby helping them improve their quality of life, and learning at Masai.
During their learning experience at Masai, a student may undergo many challenges –
Lowered confidence due to academic/emotional reasons
Inability to manage their time, and schedule effectively
Performance Hindrances in assignments, evaluations, or classes
Stress & Anxiety due to academic, emotional, or family reasons
Inability to focus on studying
Feeling overwhelmed
A career coach's role is to challenge the student's attitudes, beliefs and perspectives, ultimately making them accountable for their actions and goals. The role of a career coach is to empower students, and this is done through effective communication, where-in the coach understands the problem, and suggests possible solutions.
Guest Faculty –
Apart from our day to day curriculum, Masai students have the unique opportunity to learn from guest faculty i.e professionals who work as Software developers in different tech companies.
The idea of having guest lectures, and workshops is to complement our existing curriculum at Masai and make it more robust by inviting seasoned professionals to come, and teach topics around their expertise.
With the guest faculties coming in to share their knowledge and experiences, the students have increased exposure to the professional world, and this allows them to prepare better, and network better.
Industry Mentors –
Industry Mentors are working professionals from top technology companies, who volunteer their personal time to help, guide and support Masai students in the final leg of their journeys at Masai School.
The objective of the Industry mentor program is to help students improve their interviewing skills and get prior exposure to the industry practices before facing the main job interview.
After clearing Unit 4, the students meet the Industry Mentors to practice and train on their technical interviewing skills. These sessions are 1-o-1 and designed to

Improve the interviewing skills of the students. The Industry mentor trains the students to think clearly, articulate their answers better, and ultimately help improve the overall performance of the students in their interviews.

The mentor will also guide the student on how to be calm and composed during the interview as the candidate is tested on other aspects apart from their technical skills such as – Personality, Body language, confidence

Help the students overcome their fears of facing the interviewers, and boost their morale, and confidence before they proceed to sit for Placements.
Conclusion
We can overall notice how Masai is equipped with all the necessary structures, and frameworks needed to get a student job-ready, and our curriculum team is constantly evolving to aid the students in their journey here at Masai School.