Masai tHRrive Summit 2023 - Recap
Eminent HR leaders from 180+ top-tier companies including Microsoft, HackerRank, Tricog, Whatfix, and Wildcraft, seized the opportunity to connect with peers, initiate discussions, and broaden their understanding of talent acquisition.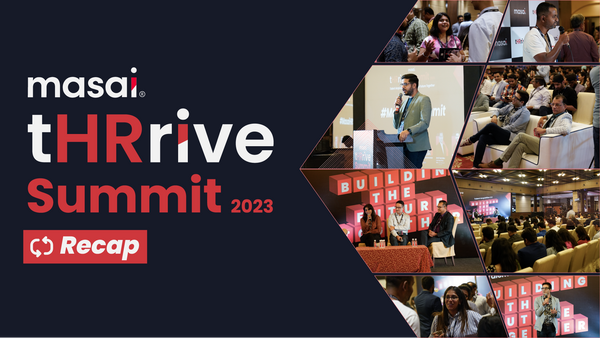 If there's a single sentence to describe the evening of 2nd March 2023, it would be - an evening chock full of insightful sessions by some of India Inc's topmost HR leaders and stimulating conversations among 250+ delegates over delicious food, drinks, and networking. We're of course talking about the inaugural Masai tHRrive HR Summit 2023.
The theme of the evening?
Talent Acquisition 2.0: Building the Future Together
Masai tHRrive HR Summit 2023 is launched to be Masai's flagship event for HR professionals with a focus on empowering delegates in attendance to unlock their full potential and be part of the TA revolution.
With networking opportunities aplenty, delegates connected with like-minded professionals and expanded their knowledge to drive real change within their organisations.
Sudeep Ralhan, CHRO of Upstox, kicked off the speaker sessions with his opening keynote. He asked the delegates to share the first thing that comes to their minds when they think about talent acquisition. The responses were as diverse as the delegates in attendance with the responses ranging from employer branding, fitment, culture, or the dreaded "we will get back to you" response, etc.
Sudeep then went on to explain how he believes that in order to stay relevant, HR leaders need to take a step back and think about the bigger picture. This entails wearing multiple hats and juggling many responsibilities, including talent acquisition, retention, and development. However, he admitted that he has a "severe allergy" to strategy. He believes that instead of focusing on high-level plans, HR leaders should think about what their business actually needs. This involves considering the cost of opportunities, efforts, and time, not just the financial cost.
In the subsequent fireside chat on the topic of "skills, degrees, certificates - what works"; Nitin Nahata, Group CHRO of Gameskraft, also emphasised on the importance of thinking long-term when building organisations. He posed a very intriguing and critical question during this chat, "Are we throwing people at problems, or problems at people?"
As HR professionals, it's important to ensure that we are not just hiring people to fill gaps but are truly addressing the root causes that actually led to the stemming of these gaps.
Nitin shared that for hiring tech talent, they do not opt for IIT graduates. Instead, they have taken the call to hire the best talent from tier 2 and tier 3 colleges and then skill them internally. He urged the audience to take up this challenge if they want to bring about a change.
Artificial intelligence (AI) is becoming an increasingly popular tool for streamlining the recruitment process and improving efficiency. However, there are concerns about the impact of AI on human interaction and bias. This was the topic of discussion in the next session a panel discussion featuring:
Asha Subramanian, CHRO, Subex
Amit Sachdev, CPO, Tata iQ
Chitbhanu Nagri, SVP - People Operations, Razorpay
Asha shared how AI has helped her organisation cut down its recruitment time by 10%. Thanks to AI technology, Subex gets 50 profiles that precisely match their requirements, while an AI-driven chatbot helps answer candidates' questions about the company and its culture, and that too in different languages.
AI has helped them eliminate gender-based discrimination and personal biases inherent in the traditional recruitment process. While Chitbhanu remarked that cost should not be a driver when imbibing AI into the hiring process, Amit asserted that for Tata, the cost comes first and has to be taken into consideration when evaluating new technologies. He also advised all HR professionals to stop looking at CVs that have "-ing '(like completing, building) and look for terms that are "-ed" (completed, finished).
While all 3 speakers agreed that it is the mundane jobs that can be taken over by AI, they also pointed out that the impact of AI technologies is entirely dependent on the information that's fed to the system, which is entirely in our hands. As for talent acquisition, it is not choosing AI over human intervention, but rather the right combination of both that will be a winning tool.
The knowledge sessions concluded with a brilliant closing keynote by Kamal Karanth, Founder of Xpheno. As a renowned and respected talent specialist, he shared his unique perspective on the recruiting industry and emphasised that all employees are transient in nature whether they're HR professionals or otherwise.
He further noted that it's important to consider what can be done to cope with the occurrence of people exiting an organisation. He encouraged HR leaders to focus on building the foundations of a company robustly and efficiently, namely - people, process, tech, and data.
The summit also proved to be an unparalleled platform for HR professionals to engage in a synergistic exchange of ideas and forge connections with like-minded individuals from diverse backgrounds. Eminent HR leaders from 180+ top-tier companies including Microsoft, HackerRank, Tricog, Whatfix, and Wildcraft, seized this opportunity to connect with peers, initiate discussions, and broaden their understanding of talent acquisition.
The summit's collaborative ambience acted as a catalyst for meaningful networking, enabling attendees to establish new relationships, exchange their perspectives on the evolving HR landscape, and explore novel ways of leveraging cutting-edge technologies to revolutionise the hiring process. The networking sessions also provided attendees with an exclusive opportunity to enhance their industry knowledge by gaining insights into the best practices adopted by leading organisations in the field of talent acquisition.
It is no secret that talent acquisition is a critical function in any organisation, and finding the right candidates for the right roles is essential for business success. However, traditional methods of talent acquisition are becoming outdated, and many companies are turning to artificial intelligence (AI) for help. While AI can certainly help to streamline the recruitment process and improve efficiency, HRs shouldn't forget its impact on human interaction and culture.
In conclusion, the Masai tHRrive Summit provided a wealth of knowledge and insights on the future of talent acquisition. We learned about:
The mindset required in future-ready HR leaders
The need to move beyond traditional hiring practices
How AI is as good as the data it's fed
How organisation must cope with a transient workforce for sustained success and growth
We were left in awe by the thought-provoking presentations and discussions. We want to thank all of the speakers and attendees who made this event a success.
As we move forward, it's important to continue the conversation and take action on what we've learned. Whether it's adopting AI, or moving away from college hiring, we have the opportunity to make a real difference in talent acquisition. We encourage you to share your own thoughts and experiences by joining the tHRrive HR community. We look forward to continuing the dialogue on Talent Acquisition 2.0