The Masai School Income Share Agreement (ISA)
There will be no payment towards the ISA if you decide to withdraw before Unit 1 ends. You will be responsible for 100% of the ISA amount if you withdraw from Unit 5 or after.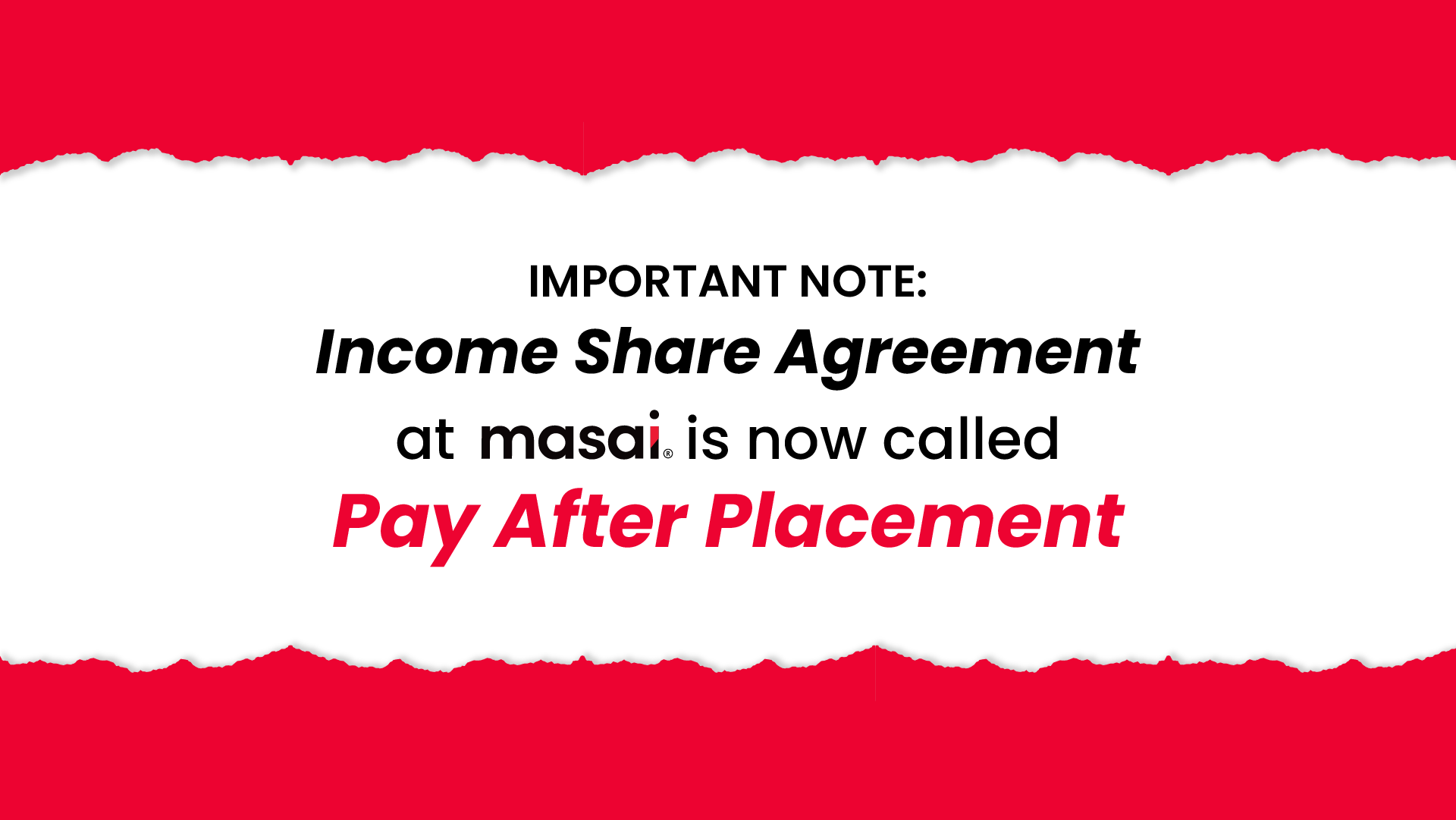 Overview
The Masai Income Share Agreement(now called Pay After Placement) is an investment in our students. As per the ISA, the student would 'Pay Zero Upfront Fees' until he or she is hired with a salary above the threshold amount. Masai School was founded on the belief that, while the potential is evenly distributed across society, an opportunity is not. 
Our Income Share Agreement(ISA) allows us to provide education that is conventionally very expensive for a no-upfront-cost system, without having any debt, loan, or interest. Besides, as you make payments toward your ISA after graduation, you are further helping us fund the Masai experience for the next cohort of students.
Key Financial Information for all the students
When a student enters the Pay After Placement(PAP) agreement, the terms specified in the agreement define that particular student's overall payment obligations.

If a student obtains any type of financing (including an ISA), he or she will remain responsible for the payment of tuition fees as per the terms and conditions of the financing document.

Once a student enrolls, the tuition amount will not and cannot be changed, based on any factor.
How does our PAP work?
1. You must continue to make monthly payments toward your ISA contract until one of the following happens:
You have paid 15% (Plus GST @18% ) of your monthly income for 36 months.
You have reached the maximum payment amount of ₹3,00,000 (Including 18% GST)
If you did not find a qualifying job in tech for one year after 'graduating' from Masai school.
2. Your ISA is paused if your annual income drop below 5LPA
You pay towards your ISA only when your income is more than ₹5,00,000 per year (₹41,667 per month). If it drops below 5LPA, then your ISA will be paused.
3. Payment that you will make towards your ISA in various earning scenarios
This calculator will show how our ISA monthly payments work, based on the different possible annual incomes you may have. For more information about the Masai School ISA, please refer to our FAQs.
4. If you decide that Masai school is not for you, you can withdraw within the first unit without having to pay any training fees. If you decide to drop out in unit 2-6, you'll have to pay a training fees as mentioned below.
There will be no payment towards the ISA if you decide to withdraw before Unit 1 ends. You will have to pay 100% of the PAP amount as training fees if you withdraw in Unit 5 or after.
5. You are required to report any changes in your income as per the PAP contract, to Masai school
Your Monthly Salary Slip.
Your Annual ITR (Income tax return).
Every time your income increases or decreases.