How a mechanical engineer built a new future for her family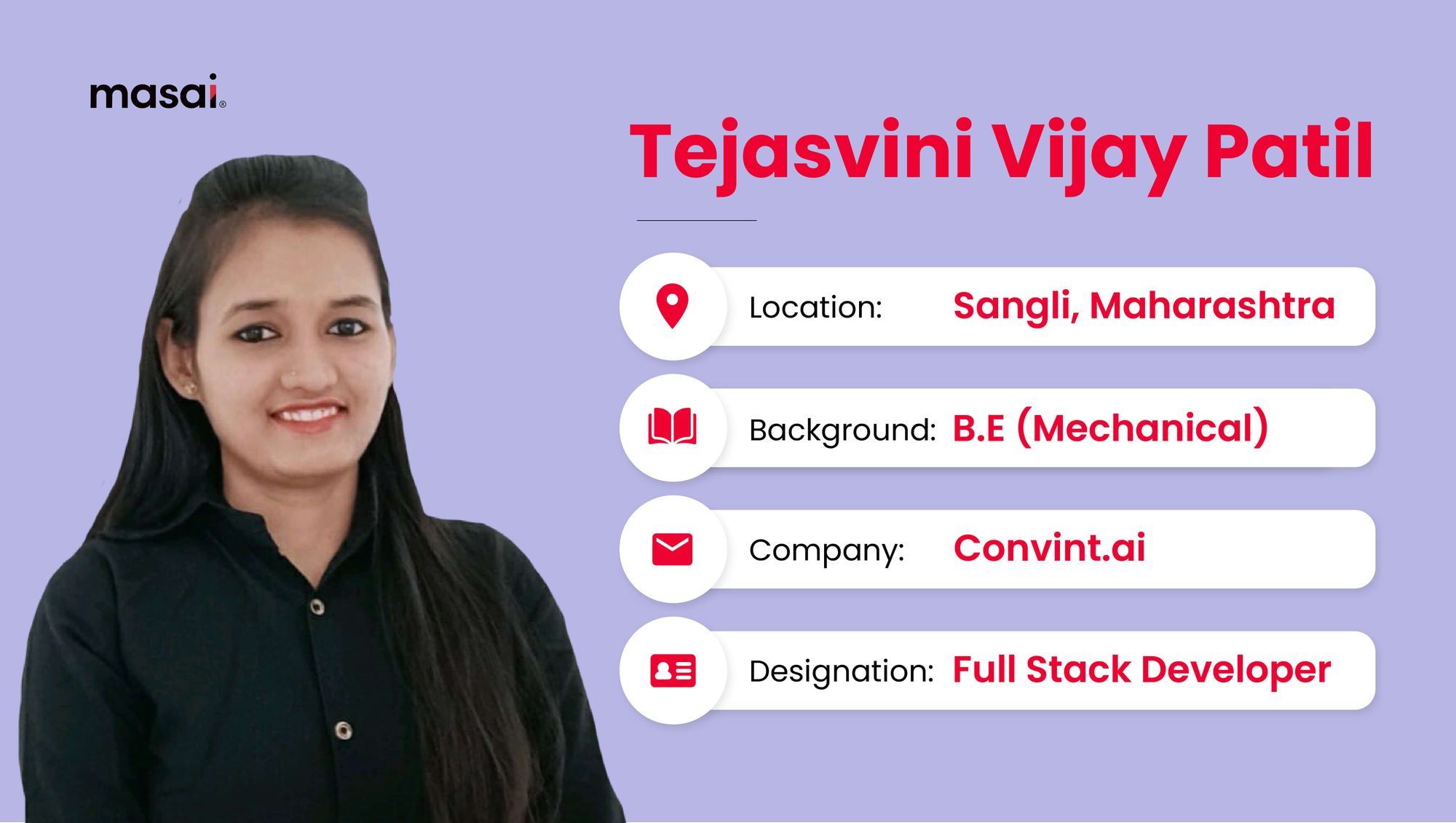 Tejaswini hails from Sangli, Maharashtra. A mechanical engineer by education, she quickly got a job in the automotive design industry post her graduation. But she wasn't ready to settle just yet. Keen on transitioning to the IT sector, she kept looking for platforms that would support her dreams.
Now a fully equipped Full-stack Web Developer working at Convint.ai, we join her for a conversation about her journey alongside Masai and her experience so far.
How did you come to know about Masai?

One of my friends informed me about Masai. He too was enrolled with Masai and got placed in the same company as me. But even though he's a good friend, when he first told me about Masai, I was skeptical.
I had a mountain of research to do, so I searched for everything from Google, Quora, YouTube videos, etc. And though that eased almost all my doubts, I was still a little nervous. But I knew Masai allowed me a month's time to experience everything for myself and still leave with no strings attached if I felt like it wasn't for me.
That's what ultimately made me feel confident in enrolling.
Was it tough going through the curriculum?

Initially, it was difficult for me. I was completely transitioning my career path from mechanical to IT. But Masai taught me everything from the basics. I was learning everything from scratch. So, as I grew more confident in my ability, everything became more manageable.
Infact, I still come across new things at my job that I have to learn and cope with. But the way Masai taught is so instilled in me that I've developed a different mindset towards languages. Such that I find it possible to navigate everything, and my experience is still helpful to this day.
What was your family's reaction to you switching careers?

I decided to switch careers right after my marriage. So when I finally told my husband about my plans, I was so happy to know he supported me. It was going to be a tough journey, but at least I had his unconditional support.
I had serious concerns about how my family would respond when I mentioned my career change plans immediately after getting married. However, when I discussed it with my husband, he fully supported me, which brought immense joy. His complete backing meant the world to me. Even though I knew the road ahead wouldn't be easy, having his support was a huge comfort. It was reassuring to have such a strong support system in my life partner.
What's your favorite thing about Masai?

There are many things the first would be the Pay after-placement. The fact that you only have to pay after you get placed is amazing in itself. The second is that anyone can become a coder with Masai regardless of their previous education stream. Look at me!
How was your experience with Construct Week?

We learn a lot in bits and pieces all throughout our curriculum, but the chance to merge all of that learning into a project is a completely different experience. It wasn't just enriching in a technical sense, I also learned team building, communication, and effectively dividing work amongst ourselves.
Those things are very helpful, even to this day. I can draw on all of those experiences and knowledge at my current job.
How was the placement experience?

When I enrolled in Masai, I only had one condition: I cannot change cities. That way I still get to stay with my husband, without that I would have dropped out of the course. However, when I shared this with the placement team, they really came through.
Everyone was so helpful and it allowed me to continue with my course. Within just two weeks of entering the placement process, I interviewed for 3 companies and even got placed. I thought it would take much longer and be so much harder. But Masai prepared me for everything and I got my dream job.
When I initially enrolled in Masai, there was one non-negotiable condition for me: I couldn't change cities. This condition, which let me stay with my husband, was crucial. Without it, I could've had to quit the course. But they really came through when I told the placement team about it.

I was pleasantly surprised by how helpful and flexible everyone was. Their support and readiness to cooperate made it possible for me to keep going with my course without any problems. Within a mere two weeks of entering the placement process, I found myself interviewing for three different companies. To my surprise, I interviewed and secured a job offer. I had anticipated that this journey would be much more time-consuming and challenging, but Masai had equipped me with all the necessary skills and knowledge, ultimately helping me land my dream job.
Advice to future students

Those that are doubtful, like I was before joining Masai. Yes, you can join Masai. You should join Masai. Before joining, you have to be ready to work hard for the upcoming months, but it's absolutely worth it.
Overcome Doubts: If you have doubts about joining Masai, it's normal. I was in the same position before joining. Despite any doubts, it's crucial to understand that you can and should consider joining Masai. Get ready for some serious hard work in the months ahead. The Masai program is challenging and requires significant effort from you, but the benefits will definitely make it worthwhile eventually.

Show Full Commitment: After deciding to join Masai, fully dedicate yourself. Embrace the learning journey and the challenges it brings.

Don't Hesitate to Seek Support: Whenever you need help, contact instructors, mentors, and fellow students. Masai offers strong support to ensure your success.

Stay open-minded and embrace new ideas, technologies, and diverse ways of thinking. Masai offers rich knowledge and opportunities, so stay receptive to the learning journey.

Create a Network: Use this time to connect with peers and professionals. Networking can open doors to future opportunities and collaborations.

Set Clear Goals: Define what you want to achieve during and after your time at Masai. Having a roadmap will help you stay motivated and focused.  You'll face challenges along the way, but maintain a positive mindset. Believe in your ability to succeed, and keep pushing forward.

FAQs

1: How did Tejasvini transition from being a mechanical engineer to a Full-stack Web Developer with Masai School's assistance?
Mechanical engineer Tejasvini desired to get into the information technology industry. Despite her initial reservations, she opted to enrol after hearing about Masai School from a friend. She felt confident in her choice because of Masai's distinctive Pay after Placement structure and the one-month trial period.

2: Given her non-computer science background, what was Tejasvini's experience with the Masai School curriculum?
Tejasvini found it difficult to make the initial transfer from mechanical engineering to IT. Masai, on the other hand, had a curriculum that began with the fundamentals and let her start from scratch. Thanks to this foundation, she could adjust and keep learning even in her current position.