From Mechanical Engineer to Software Engineer: Naga's 35 Weeks Journey to Success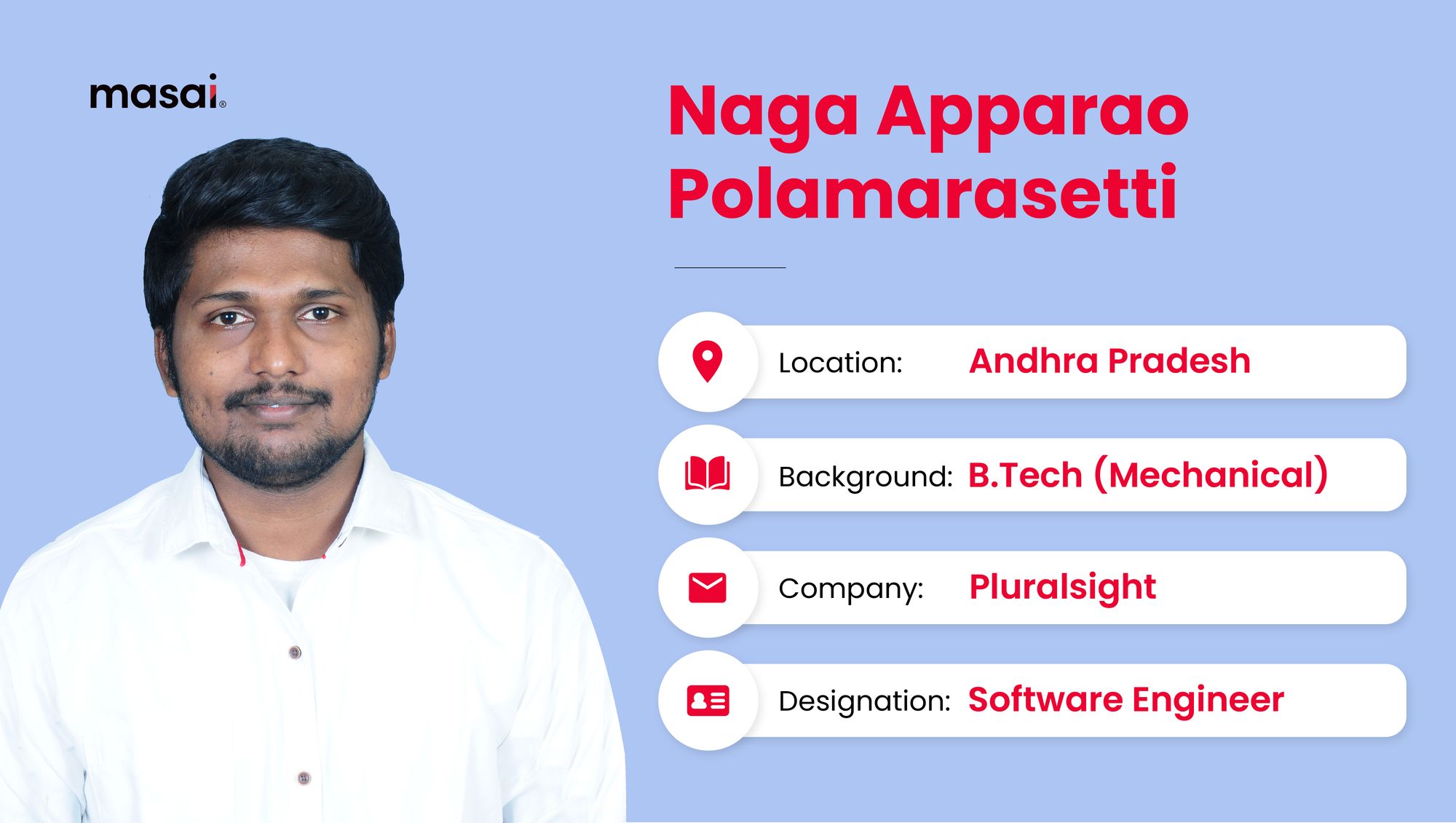 Naga Apparao Polamarasetti is a Mechanical Engineer by education but a software engineer by choice. Hailing from Visakhapatnam, Andhra Pradesh, this B.Tech graduate came across Masai and saw a chance to level up his future. 35 weeks later, Naga's turned that dream into a reality.
Taking time from his busy schedule as a Software Engineer with Pluralsight, he joins us for a chat over his Masai journey and his learnings from the same.
How did you find out about Masai?

I found out about Masai through Quora actually. Someone had written about the school and how it works on the Pay after Placement model, which immediately caught my eye. After looking more into Masai and other bootcamps, I also discovered the practice-based curriculum, another thing I found fascinating.
I decided to get myself enrolled in the Masai 0ne course as soon as I could.
How did your parents react to your decision?

I did have their support. But initially, I too took my time observing if this is for me. I knew that I had the first month to decide if I'm going to continue with the course. So after that first month was over and I believed that I could do this, I asked my parents for their opinion.
And they came out in full support, so I committed to my decision and didn't look back.
What was your favorite thing about Masai?

There are a number of things that drew me towards Masai. The first has to be the practice-based curriculum, around the time I started looking into Masai, I also looked at other bootcamps. However, a number of them only offered part-time classes, so Masai's curriculum made it stand apart.
Another thing is that they offer live classes, which made a difference to me. Even the IA's(Instructional Associates) were always ready to solve any doubt we might have. We had weekly tests that allowed us to constantly evaluate ourselves, and the curriculum was expansive.
So I guess the overall curriculum, and the faculty was what stood out to me.
What was your experience with the practice-based curriculum like?

It was definitely hard initially. I wasn't used to investing that much time into classes, just sitting through all the classes could feel like a task. And then you had the assignments. But I stuck with it, I had already made my decision and now I wanted to see it through.
So as time went on and the units went by it became much more normal. I could sit through the same classes with much more focus and it became second nature. It's definitely instilled a sense of discipline in me.
How was your construct week experience?

It was a very collaborative experience. We had already been doing individual projects during the course, but for the first time I worked in a team with others I could learn from and innovate with. That was easily the best part about construct week.
But the confidence boost from creating projects the like of which we'll work on in the industry has to be a close second.
Tell us about your placement experience

I must have interviewed for around 6-7 companies before I landed my current position as a Software Engineer with Pluralsight. I was very interested in them, so when I cleared the first round and got called to Bangalore, I was excited.
There were 3 rounds in total, from technical to the in-person interview, but I wasn't nervous. After all, I had sat for plenty of mock interviews during my revision classes with Masai, so I was prepared and knew what I needed to improve on. And that really came in clutch.