Evolution of Startups in Bharat feat. Anand Lunia
"I've seen this whole journey, and now in the past 2-3 years, we Indians have launched some truly global products."
Thursday, July 21 - A momentous day at Masai. It was the day we launched Live@Masai, an invite-only live talk series with the top minds in India's business ecosystem, held fortnightly at Masai HQ. To kick this off, it was only appropriate that our first guest was someone who can only be only described as an industry titan in the startup funding space - Mr. Anand Lunia.

A serial investor and veteran entrepreneur, Anand loves writing about startups, studying market opportunities, and helping entrepreneurs. He's a firm believer in the adage - ''Entrepreneur is the king. Not the VC.", which also happens to be his Twitter bio.
He is the founding partner of India Quotient, an early-stage venture capital firm that has funded companies building disruptive businesses aimed at Indian consumers for the past 14+ years. Their portfolio includes the likes of Sharechat, LendingKart, and Sugar Cosmetics, with investments made at a time when these start-ups were at their idea stage.
But Masai's bond with Anand is deeper. After all, he was one of the very first people who saw Masai's potential and invested in its success, not just in the beginning, but with every subsequent round too!
Here are some excerpts from his brilliant Live@Masai conversation with our Senior VP, Ankur Kayesth -
Ankur: Tell us a bit about yourself
Anand: I graduated as an electrical engineer in 1995. I became an engineer just to escape medicine. In 1991 when I cleared my 12th standard, I was getting admission into medicine and engineering both.
My father was sceptical about engineering as a field. He was a chartered accountant and worked for a milling company. He would say, "We have 500 engineers in our mill, and they earn ₹2000 a month. So what's the point?" But I was very clear that I didn't want to become a doctor.

In engineering, I used to score quite well and was the class topper. My professors and peers would say, "Anand will be a very good engineer."  However, the other part of it was building things and I didn't really develop an interest in it. I built a few things but I didn't really enjoy it and it didn't feel like an accomplishment. I wasn't the best at it either. Most of my peers were much better engineers than I was.
I got my first job in L&T, which paid ₹8000, not ₹2000 like my father had said. Then one of my seniors at L&T told me that there wasn't much to do there. This really scared me and I was determined to leave. But the question was how to escape.
My mother suggested that I could try becoming an IAS officer. But that didn't appeal to me. Then somebody suggested that I write CAT. I had no clue about CAT. After all, this was the pre-internet era. Thankfully, we had an IIM in Ahmedabad. I quite liked the place. The campus had a nice brick architecture, a good crowd, and things that I found quite attractive <laughs>. So I prepared for CAT and somehow made it into IIM Lucknow.
I went to IIM thinking I will become a marketeer. Then I wanted to pick up finance. Every semester I used to change the goalpost. I was the class topper here too. In the placements, I aimed for the most premium job available from IIMs - McKinsey. McKinsey used to pay ₹50000 salary while everybody else used to pay ₹12000-14000. McKinsey didn't hire me and that day I became an entrepreneur <laughs>.
I worked for a brief period with ICICI treasury. Then I started a company with 3 other people, called Brainvisa. I stuck to sales and marketing there. But, after 6 months of operation, our product wasn't ready. So, I took on product management. Slowly, 10 years after deciding that I never want to become an engineer, I was back at the desk taking care of engineering too. We were a content publishing company and at one point, we were doing exactly what Byju's and Unacademy are doing today.
In 1995, I earned my electrical engineering degree. I chose engineering to avoid pursuing a medical career, a decision I made back in 1991 when I had the option to study either medicine or engineering after completing my 12th grade.

My father, who worked as a chartered accountant in a milling company, had doubts about the field of engineering. He often remarked, "Our mill employs 500 engineers who earn only ₹2000 a month. Is it really worthwhile?" Despite my strong performance as an engineering student, where I even ranked first in my class, I remained certain that a medical career was not my path.  My professors expected a lot from my engineering career, but I didn't really love doing hands-on engineering work. I finished some projects, but they didn't make me feel proud or satisfied. Plus, I wasn't as skilled as my fellow engineering students, who were doing great in the field.

When I started working at L&T, they paid me ₹8000, which was much more than the ₹2000 my dad thought I'd earn.

However, a senior colleague informed me that the job lacked fulfilling opportunities, leaving me anxious and eager to find a way out.

My mother suggested a career as an IAS officer, which didn't interest me. Then, someone introduced me to the CAT exam, even though I had no prior knowledge of it. This was in the pre-internet era, so information was limited. Fortunately, IIM Ahmedabad caught my attention with its beautiful brick architecture, vibrant community, and other appealing features. This led me to prepare for the CAT exam, eventually securing a spot at IIM Lucknow.

I initially went to IIM with the intention of becoming a marketeer, but my career goals changed frequently during each semester. Surprisingly, I consistently ranked as the top student in my class.

I wanted to land a position at McKinsey, which is the company that IIM grads most frequently choose, during the hiring season. The compensation provided by McKinsey was $50,000, which was much higher than the salaries offered by competing organisations, which ranged from $12,000 to $14,000. I was denied employment at McKinsey, though. Unexpectedly, this turn of events caused me to revise my professional objectives and finally inspired me to found my own business.

After a brief stint at ICICI treasury, I co-founded a company named Brainvisa with three others. Initially, I focused on sales and marketing, but as our product development faced delays, I transitioned into product management. Surprisingly, a decade after deciding not to become an engineer, I also found myself overseeing engineering tasks. Our company primarily focused on content publishing, and at one point, we were pioneering a field similar to what Byju's and Unacademy are known for today.
The smartest guy in my company was an IIT Delhi graduate who had come back from the US. He had only one job, to keep the server up all the time. Ultimately, everything flopped because there was no widespread internet connection in India in 1999.
At this time, I had lost all my friends because I was too busy to talk to anybody. Ultimately, we sold the company. I made about ₹1.5 crore which is a lot of money. But I also realised that all the hard work I had to put in wasn't really worth it. I decided that I will never work in the internet space again.
After this, I started a service apartment business, like Oyo. Within 4 or 5 months, I realised that this wasn't my cup of tea and that I wanted to go back to working in the internet space again <laughs>.
At that time, the investors who put money into my company in 1999 - 2000 were setting up another fund called SeedFund and I joined them. We were the first investors in RedBus. Funny thing about RedBus- Back then only their technology team had air conditioning.
Ankur: How has the Indian startup ecosystem evolved in your experience?
Anand: In 2013-2014, the common consensus was that Indians can't build good products, and we can't design well or code well. Even some of my own companies faced this problem. Venture Capital at that time entirely consisted of people who had returned from the US with a degree and work experience in tech companies there. In the last 4 or 5 years, I have the progress of Indian companies to disprove that. For eg., I feel that Myntra's shopping experience is probably better than any global company, even Amazon. Ola, I believe strongly has made serious progress compared to Uber with all the features they've introduced. Even their thought process is definitely better, and it's definitely not lagging behind Uber.
I've seen this whole journey, and now in the past 2-3 years, we Indians have launched some truly global products. Earlier global products would only be launched by IITians. Now we recently invested in a company by an engineer from a normal college and his co-founder who is not even an engineer. Theirs is a no-code company where they convert Figma code using AI into a full code-ready app. It's amazing and these are people with no background in this kind of product. They've never worked in a global company. They were running a services business and got the idea to improve efficiency by building custom apps.
That's the journey. I'm just a bystander.
Ankur: Why did you choose the path of investing and specifically angel investing?
Anand: Honestly, the way it happened was that I wanted to start another company. Briefly, I worked with another startup. We didn't have the concept of work from home in those days. We worked from the office and also worked from home <laughs>. My son was 2 at that time. I just wasn't getting sufficient time to spend with him. At this point, one of my previous investors suggested that I become a venture capitalist. That's how I became a VC.
Ankur: A huge part of success in your space will boil down to a lot of judgement. Because you're not necessarily looking at a lot of data. There will be some indicators and some surveys which will show the probability of success. I think this is one of the key challenges for young professionals as well - building judgement. What's your point of view on that?
Anand: Building judgement comes from taking calculated risks. For eg., a lot of you probably don't invest in the stock markets. It's very easy. Just check all these established players, who're here for good - IndiaMart, InfoEdge, Hindustan Unilever, and Gillette. It's not about finance and analysis. You must be willing to take a bet on them. It's just about looking at your judgement.
When we were in college, we didn't have any money. Most of my friends and batchmates didn't have ₹300 to buy an annual bus pass. They would cycle 5-6 km just to avoid purchasing a bus pass. But today if you have to say go buy a book, usually good books are around ₹1000. And we can't judge them without buying. Sure, you may read the last page, flip through the pages, and then decide to buy. But probably 3 out of 10 times, it'll be a waste of money. That's how you develop judgement. Everyone has to invest some time and energy to develop judgement. You will have to put in some monetary risk and time risk and develop it.
Ankur: Would you say that translates well to judging people as well?
Anand: That's the toughest part because developing judgement about a stock or a book is easier. But that's why it's probably the most important judgement. Someday, you will all become managers, senior managers, VP, etc. and suddenly you'll find that technically you're very qualified but don't necessarily have good judgement. So the earlier you start building judgement, the better.
Ankur: What did you see in Prateek (Masai's Co-founder & CEO) 10 years back that you didn't just invest in him once but twice?
Anand: Prateek is a dear friend. I don't have to judge him. There are people who want to make money. I'm not against it. But the problem is that when the ambition of your life is to make money, you don't always stick to the mission at hand. Then some people want to do well to gain social prominence.
Then there is the 3rd kind of people, who want to bring change. They're mission-driven. Sure, they'll make money but what helps them feel good about themselves is that they also have a mission and everything they do is aligned with that mission. In our own fund, we only invest in companies that we believe will solve India's problems. At some point, you'll find founders who're mission-driven. They actually want to change the world. That's what we could see in Prateek. He had a mission in mind - to provide access to a good tech career to people who're not privileged to attend an IIT. That's what made us invest in him.
Ankur: You believe very strongly in the 'Bharat' story as an ecosystem. You've invested in ShareChat, BharatAgri, Masai, and many more such companies. What gives you that conviction?
Anand: There used to be this t-shirt company called Tantra. It was very popular 20 years ago. Tantra's business was largely designed around NRI tourists who will come to India and buy their shirts which had graphics of Indian animals, which didn't necessarily depict India in a positive light.
The west was also terrible in how it treated India. They looted all our money and left us in shambles. Then when we were not growing, they would say that we were growing at a 'Hindu' rate of growth, which is 3-4%.
However, around 15 years ago, there was a period of decent economic growth in India from 2002 - 2008. At this time India became more confident. Suddenly the perception of India's youth changed and in general Indians became more confident about themselves. eg. if you see old Colgate ads, they would show a man using charcoal to brush his teeth and someone would tell him that it would spoil his teeth. Then 10-15 years ago, a certain 'Babaji' entered the picture and he introduced charcoal tooth powder and charcoal toothpaste. And now every company has charcoal toothpaste. What happened here was that all those people who were making fun of charcoal for oral care in particular and Indian customs in general changed.
While we're seeing this change in India, people who come back from abroad after spending 20-30 years there are still stuck in the 90s. The initial venture capitalists also belonged to this category. They came with their biases and misconceptions like "Indians will not pay for software, particularly small businesses".
But we had confidence in such individuals and businesses. Data shows that the bulk of the small businesses being started anew are by 2nd generation people. They're not joining their family businesses but are staying back in their hometowns. They're paying for Hotstar. They probably have Amazon Prime which they use to shop and watch video content. These guys are smart enough to come online, figure out an online application, create a LinkedIn profile, create a good email id, and pay their bills on time and that too online.
So why won't they pay for software? They will. The proof? Vyapar, a 4-year-old self-accounting company we invested in, is selling 20,000 licences every month mostly in these regions and to such customers. We have a company which is giving advisory services to farmers on how to grow crops using satellite imaging and soil testing. These farmers are paying them and that too using UPI.
We were confident about Bharat's abilities and were proven right.
Ankur: Could you contextualise some learnings from your experiences of recessions in the past? After all, for a lot of young people, the current recession might be their 1st.
Anand: If you work hard, it doesn't matter. Even more importantly, whether it's a recession or a boom, you don't want to trade the early years of your professional life. You want to focus on learning and developing skills and capabilities. Just invest in yourself and work to learn and develop professionally and as a person as much as possible.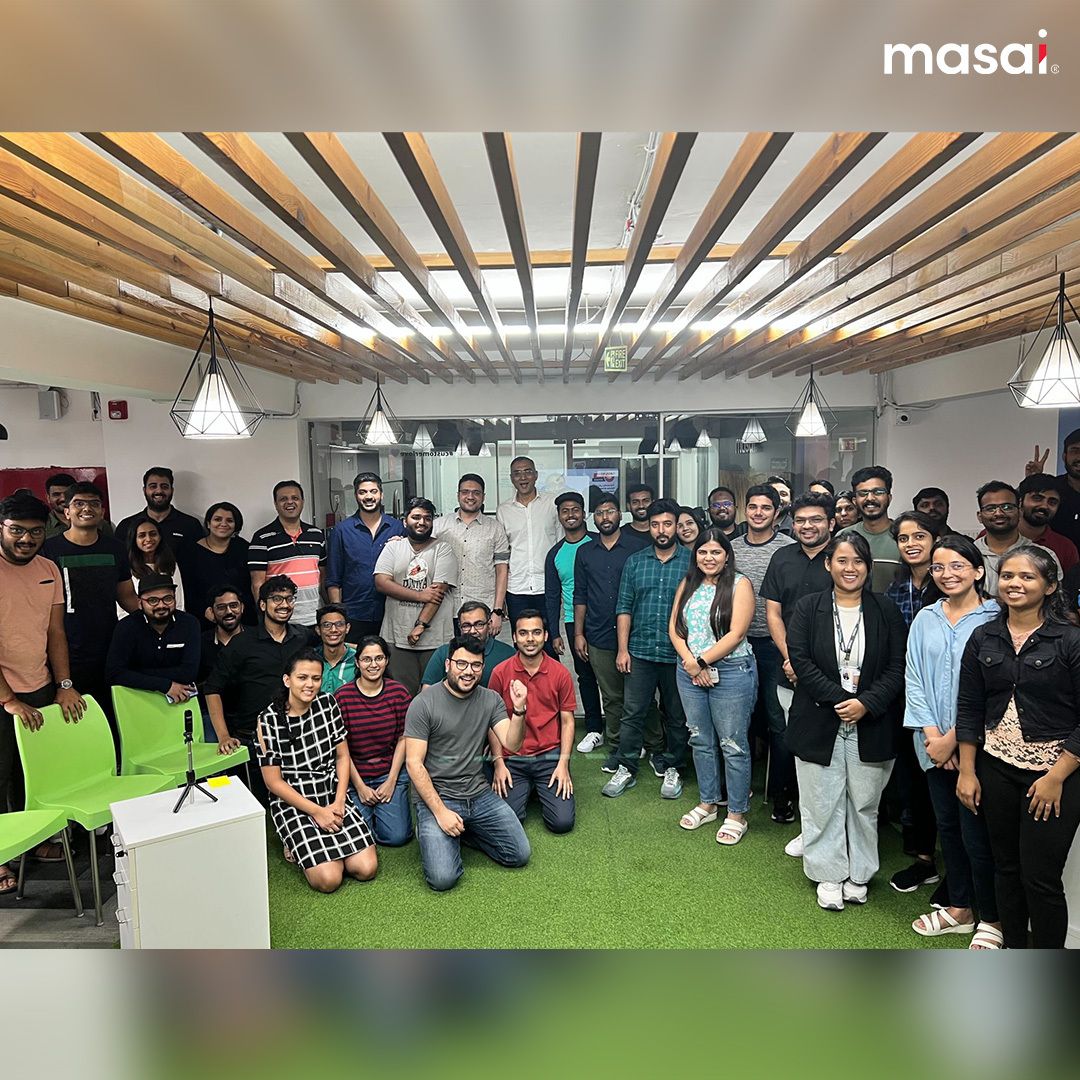 Ankur: Any advice for our young people on investing in money?
Anand: For the first 10 years of your professional life, you just need an emergency corpus.  Maybe save ₹5 lakhs for that and invest in health insurance. But otherwise, don't bother about investing money.
Ankur: What are the top 3 things we should be investing in today?
Anand:
Invest as much as possible in your family. It's very important. Invest your time in them
Invest in 2-3 friendships
Invest in learning and your skills. for eg. Invest in a good screen and a good chair to work better. Invest in a good mattress to sleep well.
Ankur: What's your favourite book?
Anand:
The Goal: A Process of Ongoing Improvement by Eliyahu M. Goldratt
It's a very old book on operations planning. Please get the 1st edition, not the later editions
The long-form Mahabharata - You'll enjoy reading it. It's full of interesting facts and lots of learning
Sam Walton: Made In America by Sam Walton (Founder of Walmart)
Jeff Bezos' biography
Ankur: Favourite movie?
Anand: Amitabh Bachchan's 'Agneepath' (1990)
Ankur: What do VCs do for fun?
Anand: We only have fun all the time and give 'Gyan' to founders <laughs>

More talks/opinion on careers and startups:
FAQs

1: What is the significance of Anand Lunia's journey in the evolution of Indian startups?
The journey of Anand Lunia is extremely significant since he saw the evolution of the Indian startup ecosystem firsthand and actively participated in it. From the beginning, he has supported cutting-edge firms like Sharechat and LendingKart as a founding partner of the venture capital firm India Quotient. His observations shed light on how Indian companies advanced and created globally competitive products in recent years.
2: What lessons can young professionals and aspiring investors learn from Anand Lunia's experiences?
Young businesspeople and aspirant investors can learn much from Anand Lunia's experiences. His varied career, which spans engineering, entrepreneurship, and venture capital, highlights the value of flexibility and ongoing education. His counsel on developing judgement, prioritising personal development, and making investments in friends, family, and skills offers useful advice for both personal and professional progress.