7 Key Reasons Why You Should Join a Coding Bootcamp in 2022
83% of graduates affirmed that they've been employed in jobs that require the same technical skills they learned at a bootcamp, with an average salary increase of 51%.
Just over a year ago, I joined a digital marketing bootcamp. To be honest, I was a bit skeptical about the idea of joining such institutes, as they're still a new education model in our country.
I asked myself- Is it going to help my career in any way? Do companies even hire students from such bootcamps?
One month into the program, I got my answers. I started enjoying the immersive program with the vision of a bright future in my eyes. I was working on real scenario-based projects, and I could see myself executing similar tasks, and running similar campaigns in the future.
I know you're here because you are having the same questions I had once. Either you're looking to build tech skills from scratch, or you want to upskill because your current skills aren't enough to land you a high-end job.
Whatever the reason be, coding bootcamps with their industry-focused approach and features centered around students' needs have emerged as the best alternative to the traditional education model, and they're here to stay.
So, should you join a bootcamp?
In this article, we'll be covering 7 primary reasons why coding bootcamps are just the right career path you need:
Learn fast with high impact
Coding booctamps offer accelerated learning programs, usually spanning over a 6-12 months period. However, this doesn't mean that you'll learn any less than say, a 4-year degree. In fact, accelerated learning has multi-fold benefits such as:
Increase in aptitude
Learning time management
Getting job ready
Once you've gone through a concentrated learning phase full of challenges and strict deadlines, you're ready for the 'no-inch given' cutthroat corporate work environment.
It helps you immensely in building discipline, time management skills, and a streamlined work process, thereby making you a complete professional.
Get ready for the industry
Bootcamps have a comprehensive curriculum designed keeping in mind the current industry tools, frameworks, and practices.
In fact, they ensure that industry mentors and other important stakeholders are aligned while designing their curriculum, in most cases. (Something we follow religiously at Masai after each batch)
They keep updating the curriculum adapting to new trends and work principles in the tech world. That's why you won't still be learning about something as outdated as transistors in a bootcamp. You'll learn exactly what you'll be needing to thrive in your career.
Another reason why we say this is because you also get to learn soft skills (also called employability skills) that have a direct impact on your career graph.
Communication skills with colleagues, presentation, responsiveness in a professional setting, accountability, etc. are some of the qualities you develop naturally in your journey.
Learn practical skills and build real-life projects
This is one of the most important aspects of a coding bootcamp. We'll tell you why.
According to the Aspiring Mind's national employability report of 2019, only 3.84% of the engineers possessed the skills to get employed in software-related jobs.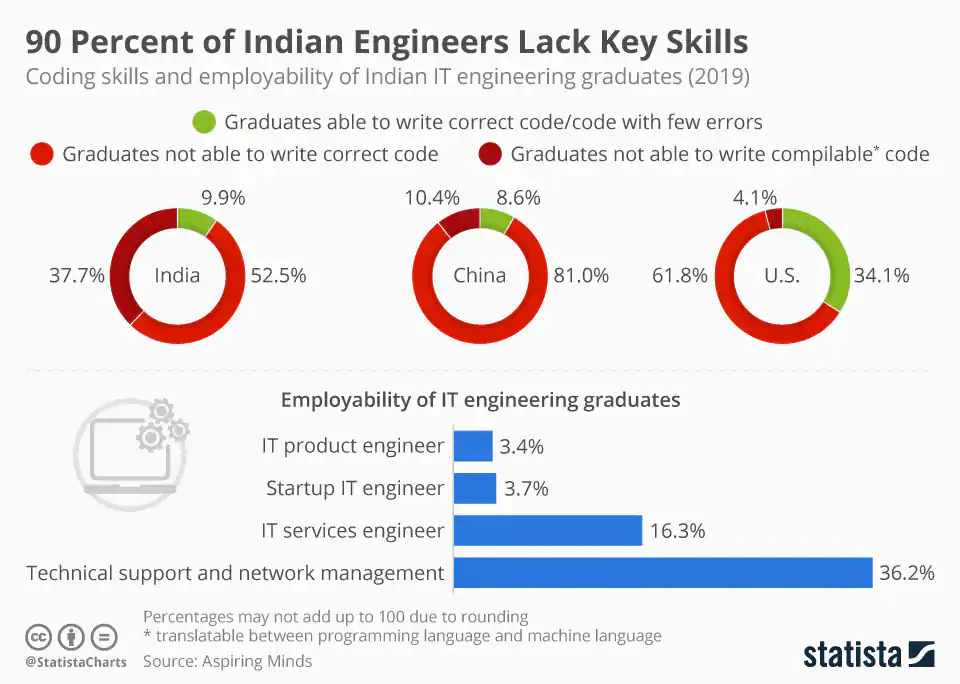 What could be the reasons for such shockingly low numbers?
First and foremost, it's the lack of practical learning i.e. hard skills.
There's a wide gap between industry standards and students' skills. And why wouldn't that be the case?
Quite ironically, many Indian colleges are still teaching Java on blackboards.
Where will the hard skills come from?
If you're a web developer, building websites is a hard skill. At least that's what the companies expect from you as your core competency. But how many computer science degree holders can really do that from the get-go? Maybe, a small percentage of students.
At bootcamps, you get live coding sessions and real-world projects that craft your hard skills. You are actually building websites, you're actually solving DSA problems.
Theories can shape your insight, no doubt, but what makes you a real professional is your ability to perform the tasks at hand efficiently.
With months of hands-on practice over various coding concepts, students get well-equipped with hard skills.
Build a great portfolio
As we've seen, online bootcamps have a lot of activities, projects, and even fun exercises in a short span of time.
Apart from the immersive experience, you build a great portfolio of your work and projects by the time you finish the course. Case in point, Masai students enlist their construct week projects where they build real-time clones of popular websites such as Shopper Stop, Instagram, etc.
Having such a portfolio will definitely grab the recruiters' attention, and carry an advantage over your college counterparts.
💡
Hold on! Slow down a bit! Did you know that you can become a full-stack developer or a data analyst in just 30 weeks at 0 upfront fee?
Know more about these courses
and decide for yourself.
Build a community
Coding bootcamps generally run cohorts for students from different backgrounds. You get to interact with people having different specializations, learn from each other, and engage in a community with them.
Most institutes use real-time chat systems, like Slack or Google Meet to ensure swift communication between peers.
Add to that the value you get while hustling and learning with other students who might be going through similar ups and downs as you.
You start to develop multiple approaches to problem-solving, that aid you in your real life too.
By the end of the program, you will develop new friendships and connections with people who could one day very well be your colleagues or referrers.
Building a network is a necessity to grow in today's tech-heavy industry. And you can kickstart that process while learning at such career-building programs.
Top companies hire bootcamp grads
Yes, you read that right. If we wind the clock 5-10 years back, companies were a little hesitant in hiring from bootcamps and other similar models.
With big tech giants like the MANGA companies (Meta, Amazon, Netflix, Google, and Amazon) showing huge interest in bootcamp graduates in recent years, other companies have also followed suit.
Especially in India, a large number of unicorns and emerging startups are showing interest in bootcamp grads. Companies such as the likes of Dream 11, ShareChat, Swiggy, Meesho, etc. regularly hire grads from Masai, after seeing their work ethic and adaptability. (Here are 11 of those unicorns that hire from Masai)
As a result, a significant majority of students get full-time employment at high-end salaries after going through the bootcamp journey. According to the Course Report's Alumni Outcomes  & Demographics report, 83% of graduates affirmed that they've been employed in jobs that require the same technical skills they learned at a bootcamp, with an average salary increase of 51%.
Another Course Report finding stated that 72% of employers consider bootcampers to be better performers than their college counterparts with CS degrees.
And why wouldn't they? Bootcamp graduates come with industry-relevant skills and they're ready to plug and play from the get-go. Whereas, CS degree holders generally need 6-month comprehensive training programs before they're ready to contribute to projects.
Also, bootcamps focus on holistic development that includes communication skills, presentation skills, leadership abilities, etc. Companies prefer these transferable skills when they hire for the long term.
Update your skills
You might already be working in a tech job for years on a particular legacy system. You're confident about your job. But, the employers might not be confident about your skills and adaptability, given they're planning to change the legacy system.
Yes, you can never be sure about your position working in a tech environment as the tools and frameworks keep changing.
So, what's the solution?
Update your skills. And where do you train on the latest technologies?
You guessed it! A coding bootcamp.
In fact, bootcamps also strengthen your logic and fundamentals so you can adapt to a new tech stack with ease.
These were the 7 primary factors that will help you make a decision on whether you should join such a program or not.
Don't worry, we won't just leave it at that.
Who are Bootcamps not for?
However efficient these institutes are, they can't be one-size-fits-all. There can be a few categories of students for whom they might not be the best option.
They're not best suited for students who are:
Not willing to work after graduation
Looking to pursue higher education after the program
Unsure about the industry or field of work they want to choose
Not disciplined and patient enough to rigor through the course
But if you're ready to build your career and give it all you have along the way, joining a bootcamp might just be the best decision you've ever made.
Top Reasons Coding Bootcamps Are Beneficial
The coding bootcamp industry is expected to grow at a 29.31 percent annual rate in the next few years. This tremendous increase demonstrates the popularity and effectiveness of this type of training. Here are the main reasons for the popularity of bootcamps and why you should consider joining one to acquire new skills or reskill.
1. Quick and effective training. Bootcamps are meant to teach students vital and in-demand technical expertise in a short period of time. The program curriculum and teaching are designed to prepare students for employment in a year or less.
2. A high rate of employment placement. Bootcamps that provide job placement aid will provide you with expert support and direction. This can make the job-search process following bootcamp less stressful. Many firms are eager to employ directly from bootcamps due to the targeted training.
3. Possibilities for networking. Completing a coding bootcamp may provide you with access to networking opportunities and hackathons, as well as contacts at other firms and organizations. Furthermore, the professional ties you develop with your professors and classmates during your coding bootcamp program are priceless.
4. Availability of a support system and career assistance. Students enrolled in a bootcamp have access to an organized support system. Learning in a more organized setting guarantees that the skills you learn are useful to employers. Coding bootcamp career services, such as resume or interview preparation, are also frequently offered by bootcamps to assist you prepare for the job hunt after graduation.
5. Interactive curriculum. A bootcamp education concentrates on teaching essential skills for employment in technology. A coding bootcamp curriculum offers lots of chances for practical learning and projects to help students become familiar with using the skills rather than simply the theory in order to prepare them for the workforce.
What Do Recruiters Think of Graduates from Coding Bootcamps?
Employers often view coding bootcamp graduates favorably. This is due in part to the fact that an increasing number of organizations are emphasizing talents over academic qualifications when recruiting. Indeed polled over 1,000 HR managers, and the answers were startling: 72 percent said bootcamp grads were just as equipped and likely to perform well as computer science graduates.
According to the same poll, 12% of recruiters feel that students who attend coding bootcamps have more skills than the average college graduate. Professionals who have completed a coding bootcamp are frequently lauded for their ability to be independent and self-sufficient while yet working well as part of a team. Employers also value bootcamp graduates' current knowledge, proficiency with cutting-edge tools, and creative thinking.
Cheers and happy coding!
FAQs
Is it worthwhile to attend a coding bootcamp?
The short answer is yes - coding bootcamp graduates earn 52 percent more than their previous employment.
What should you learn in 2023?
Artificial Intelligence and Machine Learning will be useful in 2023.